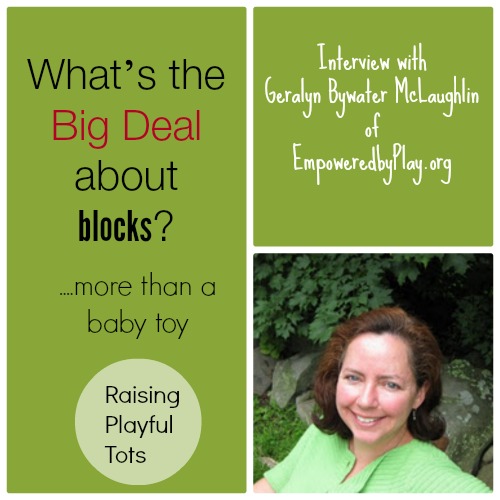 Blocks are just perfect in our digital age!
They are more than a baby toy but a toy that grows with our under 5 children.
Today I have an interview all about the big deal about blocks.
Empowered by Play was founded in 2009 by teacher-turned-activist Geralyn
Bywater McLaughlin, M.Ed. A classroom teacher for 19 years, she is also a mother of seven-year-old twin boys. Geralyn became a play advocate in response to her classroom observations of children who were forced to grow up too quickly in the current commercialized, plugged-in culture.
She is also a contributing writer to So Sexy So Soon: The New Sexualized Childhood and What Parents Can Do to Protect Their Kids
by Diane Levin and Jean Kilbourne.
Read the article by Geralyn on blocks
Geralyn on Twitter :: Geralyn on Facebook
Listen::
Listen to this week's show
Podcast: Play in new window | Download
Subscribe: Google Podcasts
| subscribe through iTunes | on-the-go device
Show notes::
We learn
Aubrun, Maine school department spending approximately $200,000 on ipads for their incoming Kindergarteners.
Opposition and activism following that announcement
Evidence about how blocks are disappearing from early childhood classrooms and homes via Crisis in Kindergarden– Alliance for Childhood
about spontaneous idea opportunities generated from block play
about why we should have block play.
Update of the AAP guidelines on screen time for the Under 2s.
Value of blocks over time vs finite shelf life of software and the digital world.
Blocks are not just for babies
Block sizes and amounts for each age group
community playthings on blocks
the value of adding marbles, ramps and balls to block play
creative ways of block play
Different ways to use blocks
Photoblocks :: MindWare Blik-Blok:: Jenga:: Build-Your-Own-StoryBlox™ :: Art History block
Kapla blocks :: Keva Blocks
ways to teach block use if we don't use blocks right now….side by side? Join in? teach? leave them to it?
What book has helped you raise a playful tot?
Inspired you to do better and be better. Leave your comment in the show notes
Share::
If you enjoyed today's show please tell your friends.
Have your say::
"Like" us on Facebook
Join in with the topic of the week from the Podcast
Add an honest review on iTunes 🙂
{ Source}