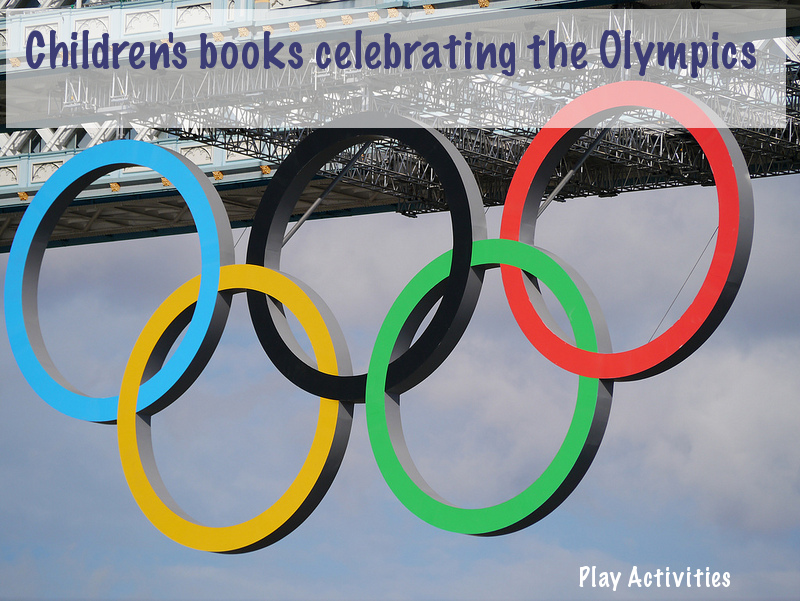 I'm excited to share some Olympic books that give you an opportunitiy to talk about the events, feelings and emotions surrounding this sporting event with our young children. The first few books focus on   the special olympics and give us an opportunity to look at this lesser talked about event. From friendship and determination to patience and being able to laugh at yourself; each story gives a jumping off point to talk about feelings and emotions as well as talk about the Olympics.
P. K. and T. K. and the Special Olympics

by Richard Hurley
P.K. and T.K. While searching for a family of their own, P.K. and T.K. come across a broken-down school bus filled with children.
The children are sad…they are trying to make it to the Special Olympics on time so they can compete in the games! But with the bus breaking down, they need a small miracle in order to get achieve their dreams of being Olympic athletes.
Determined to help, P.K. and T.K. devise a way to use their magical powers to help the children get to the Special Olympics.
Way to Go, Alex
This story is about the struggle with Carly and her special needs brother, Alex. The ups and downs of brothers and sisters as wells as the relationship between a special needs sibling. This story shares Alex bid to train for the special Olympics with his sister.
The Fairyland Olympics
Imagine putting on a fairytale Olympics with tree tossing and moonbeam sliding. Lots of imagination as the enchanted forest put on an olympics.

The Pickle-Chiffon Pie Olympics
Age old story of the marrying off the Princess to the best suitor in the kingdom. But this one will have to win the Olympics and will it be the one SHE wants to marry?
Learn about the different events through poetry elephant style.
Olympig!
What happens if you don't win your race not just once but lots of times? The comic adventures of this pig keep you smiling and share a valuable lesson about perseverance and how to lose.
Looking for more Olympic books
 What books would you recommend about the Olympics? Share in the comments