Did you get a smartphone, ipod, or Kindle recently? Chances are you are loving the freedom of looking things up at a moments notice. Audio and video is something to look out for in the Early Childhood world. No I'm not talking about our little tots this time. I'm talking about us. We don't always have time to flip through a book or magazine but we do have time when we're going up and down during the day or perhaps folding laundry or working out when we have time to listen.
You can listen via their website, subscribe via iTunes or listen via your smartphone with an app like Stitcher.
Here are four resources for you to add to your listening lists. Try them out and let them know what you think.

Raising Playful Tots is a weekly podcast for mums who want to make the most of their playtime with their under 5 children. Practical ideas, expert advice, and conversation about play from parents, experts and Early childhood educators. The aim is to get us talking, investigating and learning about play to intentionally develop our family.  This is part of the Play-Activities Network. Host: Melitsa Avila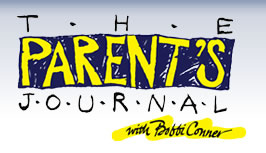 The Parents Journal provides expectant parents, new moms and dads, and parents of infants, toddlers, preschoolers (and older kids) with the best available information to promote a healthy, happy childhood right from the start!
This is not a program that dispenses "quick-fix" solutions, or one-size-fits-all parenting advice, but rather a resource that helps parents understand and nurture their own individual child's physical, intellectual, social, and emotional development. Host: Bobbi Conner
Baby Instructions is a live show at 11am EST. Based on her book, Help my baby ( Toddler) came without instructions.
Blythe and her guest experts will provide instructions to make those first years a breeze!!
Answers to all your "How to's":
Her guests talk about parenting from pregnancy through the baby years. Host: Blythe Lipman

(Over)Thinking Mom is my attempt at what I'm calling MPR, mommy public radio. No, it's not actually publicly funded (unless you're offering?), so try not to overthink the term. In the podcasts, I ask other parents' about their experiences, anything from infertility to life as a stay at home mom to bringing home baby. I also research and record shows on more obscure topics, such as modern day wet nursing, the history of mothering manuals, or the mother who invented Thanksgiving. Check out the archives for a list of past shows. No matter the topic, research, analysis, and, of course, overthinking will make an appearance.
What are your go-to parenting shows that show goodness to the ears?
Click here to read the rest of the posts in the series, 31 Days to a more Playful Tot.
If you enjoyed this post make sure you are subscribe to my mailing list with encouragement and ideas for Simple Parenting