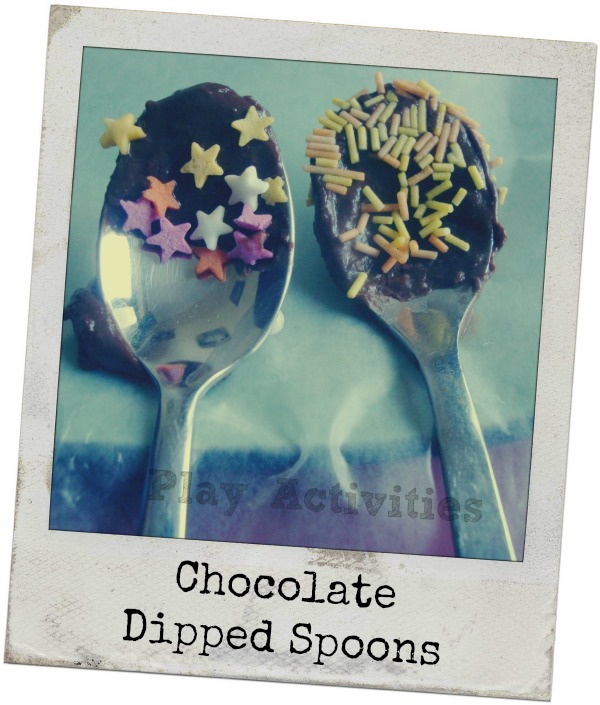 Welcome to Day Twelve of 31 days of Sensory Play.
When the kids come home from school they are beat! Yours too,  I see.
After the hugs and dumping of  book bags, one of the first things they ask, "What's for snack?"
With the evenings turning chilly and dark we all love a cosy hot chocolate. Today we're going to take that up a notch and add a treat.
Because the normal hot chocolate looks sad and lonely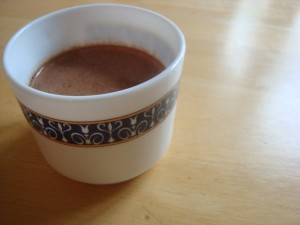 until you have…………chocolate dipped spoons.
Gather together your cooking chocolate, bowls and assortment of spoons. The kids were pretty keen to do this raiding the cupboards and trying to find silly spoons. Luckily we didn't have a lot of cooking chocolate left.

We melted our chocolate in the mircowave following the instructions on the packet of chocolate. It's hard to wait for chocolate to melt.

Stir the chocolate so it becomes a lovely drippy gloopy puddle. You get to harness that energy as they whip up the chocolate.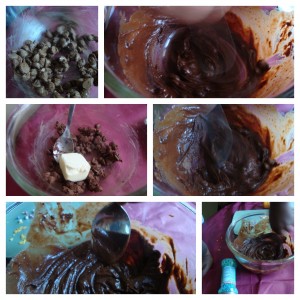 Now the moment comes when you choose your spoon. Dip it in and sprinkle your favourite cake toppers.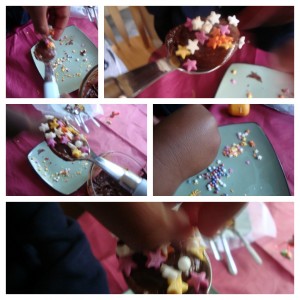 Leave the spoon on waxed paper to harden and resist eating the bits of chocolate that you find. 🙂
The next afternoon we sat down for our afternoon treat……
There's nothing like sitting together and learning about their day. Sweet memories, smiles and wondering where the chocolate stars disappeared……
Your turn
Come back and share your experiences, stories and activity.  Share your post here in the comments or share your photo on Facebook
Find the other days in this series
Next: 31 Days Of Sensory Play {Day Thirteen} Active Alphabet Activity
Grab our badge