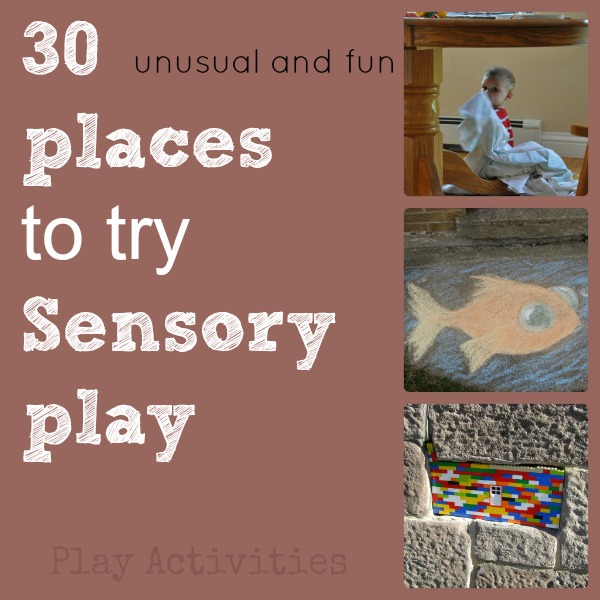 Welcome to Day Eleven of 31 days of Sensory Play.
Don't get stuck in a rut with your sensory play locations. It's not always about new ideas sometimes it is about new locations for our favourite activities. With active boys who want to move we try and accommodate the wiggles. Keeping active and moving is something kids want to do naturally. Sensory Alphabet Activities, our ebook, still remains one of our favourite activities to do because they get to move around the house and be creative.
It is easier for me that they sit but it's not right for them if this is what we do all the time.
Getting the balance between creativity which tips over into silliness and quiet focused activity. There's so much in between and for different days my tolerance level changes.  The volume and energy or young ones is powerful inside a small space. Playdates seem to get that way pretty quickly.
When I had a small baby who cried and cried. Going outside released my tension and his. Now when we have activities at the back of my mind I have an escape plan that will swing the mood up or down in reserve. Many times we need to calm things down and sometimes we need to lift the mood. I choose something off this list to keep things different and appeal to our moods.
30 unusual and fun places to try sensory play activities
Sidewalks or Pavements
In front of the garage
Inside the garage on the floor
Inside walls of the garage
Side of the shed
Walls of the house
Along the fence
Under a table
Under the bed
Under the duvet in Mom and Dad's room
Under the stairs
Under the cushions
Inside a blanket
on the floor
In a fort
something taped to the underside of the main table
something taped to the fence
something taped to the wall
Side of the refrigerator
recycling box
Using their bikes, scooters and trikes to make marks outside
Easel
Stairs
Tree or large bushes
Mud
leaf pile
Under a large stone
Sand tray
Sensory tubs or bins
kitchen floor
Your turn!
Your turn
What location would you add?
Try a different place for a sensory activity.
Come back and share your experiences, stories and activity.  Share your post here in the comments or share your photo on Facebook
Find the other days in this series
Next: 31 Days Of Sensory Play {Day Twelve} Chocolate Dipped Spoons
Grab our badge