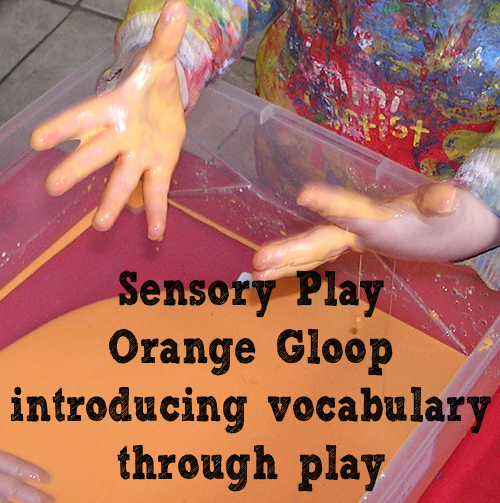 Welcome to Day Nineteen of 31 days of Sensory Play. I'm delighted to have Cerys from RainyDay Mum share a sensory play idea. Catch our interview together on Toddler play.
We first played with gloop when my youngest was around 9 months old and I regularly set up a bin with different elements in, colours and scents.
The recipe for gloop is very simple and just 2 ingredients.
Corn Starch (Corn Flour) and water
Add the corn starch to the bin and then add the water slowly, it's a very strange feeling mixing it together and with my older child we like to mix it up together.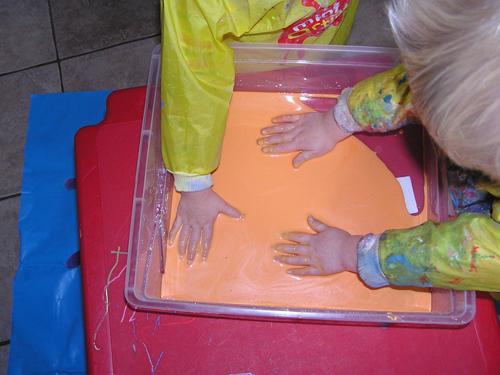 This batch I added some orange food colouring and some orange essence as we are working with introducing new foods and this gave us the perfect opportunity to talk about smell of oranges and what J thought they would taste like.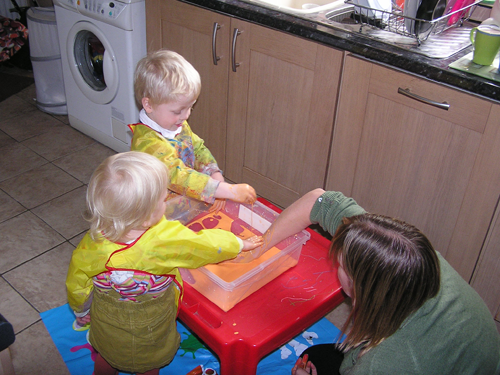 The gloop is an interesting substance it's liquid but with any force applied it turns solid. Whilst we play with the gloop it's a great opportunity to introduce some scientific words and also descriptive vocabulary. Good words to introduce and explain to toddlers and preschoolers are:
Solid
Liquid
Flowing
Stuck
Runny
Squeezing
Squelching
Change of state
Frangrance
Colours
When we make this up we use it for a couple of days before throwing away as it doesn't last long, it dries out very quickly and once dry can be brushed from clothes easily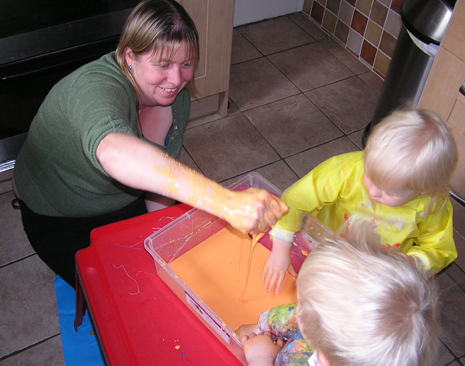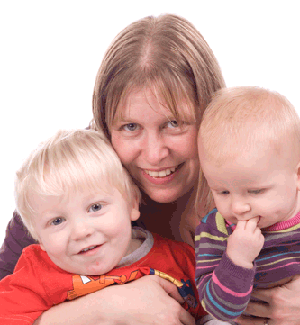 Cerys is a SAHM with two young children, a former teacher and marine biologist she writes at Rainy Day Mum with crafts, play ideas, activities and fun for Babies, Toddlers and preschools no matter what the weather.
You can find Cerys over on her blog, as well as on Facebook, Twitter, Pinterest and G+ where she shares ideas from her own blog and others suitable for Babies, Toddlers and Preschoolers.
Your turn
Tell us about your gloop experiences and playing together.
Come back and share your experiences, stories and activity.  Share your post here in the comments or share your photo on Facebook
Find the other days in this series
Grab our badge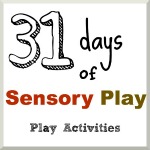 This post is linked to