After reading LittleMummy's post on gift ideas for a 2 year old. It inspired me to compiled a list of the little guy's favourite toys. Since he has an older brother he's lucky enough to play with some toys that's for an older stage. But he gives them a good go.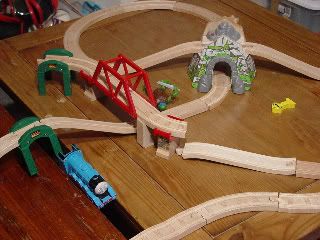 Thomas the tank Engine
Why the little guy likes it?
Joins in with his brother racing the trains around the track
Taking the track apart and trying to put it together in a different way.
Making the train sounds.
Linking the trains together and running them fast so they derail going down hill.
Adding cars, people, animals to the track-testing different objects to see if they run on the track.
Crashing the trains all with sound effects.
Seeing how many trains can be clipped together and driven around the track.
Why we like it?
He gets really engrossed and likes to stay with the trains for more than 10 minutes at time.
He tries out his engineering ideas. ( trying to rebuild)
Encourages cooperation on the track with his brother ( sharing trains, space, and direction)
Uses his imagination to make sounds, play out scenarios from the book.
So many different ways to make the track.
Easy storage of the track and pieces
Open ended play that changes depending on their stage.