This is part 2 of a series looking at everyday play activities and toys for toddlers.
Lacing animals is a new [tag]play activity[/tag] for my [tag]toddler[/tag].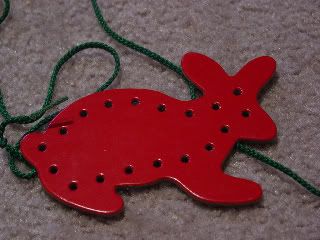 Why he likes it?
Likes to choose which animal.
Putting the string in and swinging it around.
Gets to sit with someone to help him push the string in the other way.
Enjoys matching the string colour to the animal colour.
Why we like it?
improving his [tag]fine motor control[/tag] & dexterity.
[tag]improving concentration[/tag] and determination.
likes to play with the animals.
Easy to take with you anywhere.
Each loop is an achievement that he celebrates- building confidence.
This is really a skill he is trying to master. He returns to it many times a day and plays with it longer each time.
We bought our set on ebay.