During the hot summers when we lived in Italy we used to love to go outside in the shade and paint and play.
This particular day we were playing on the rug when the BG asked if he could paint. No problem. I went into get the things bits at a time. ( easel, paper, paint, water, paintbrushes coverall etc). I should have taken things out in a better order for a curious toddler. So after the paint pot of blue arrived with paintbrush; the phone rang. He had his back to the house. I could see him on my portable.  He was safe. Safe and savvy enough to grab the blue paint and use his own canvas.
He loved it. I let him paint for a little bit but he was getting it on the rug. I can imagine it felt cool and funny. An unexpected sensory experience of the brush, paint and temperature.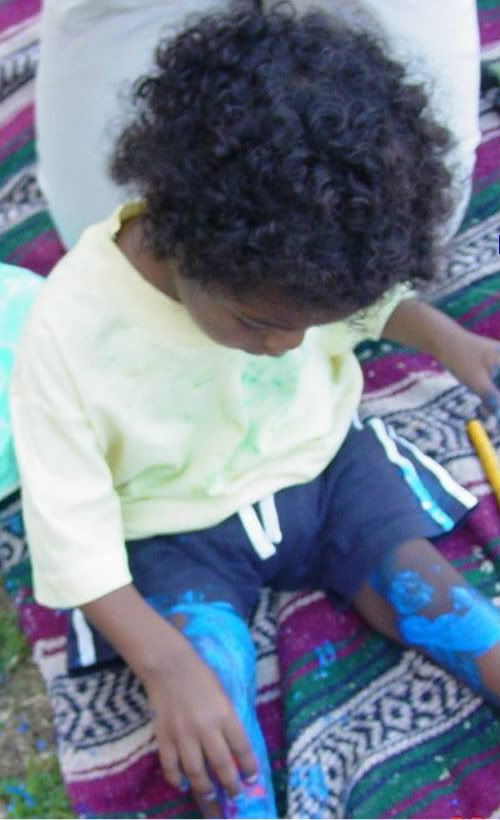 Thank goodness for tile floors.
Then I had to grab my camera before he hopped in the shower. 🙂
The paint came off really easily.
Getting in the shower was the difficulty.
It's fun when they do things like this and we can adapt. I did take a deep breath and sigh when I originally saw him painting himself but then let it go. What is childhood if not for moments and photographs like this?
…maybe he was in training to become a little blue man?
See video below

Other painting ideas if you fancy some painting today!
Painting with Toddlers
Playing with keys
Nature display
Marble play
What's been painted recently at your place?
Listen now….
This month on BAM radio  Dangerous Parents, Safer Kids
Rae Pica with Lenore Skenazy. Click the play button in the sidebar

Please visit the others at Tell me Thursday to find out the story behind their Wordless Wednesday post.