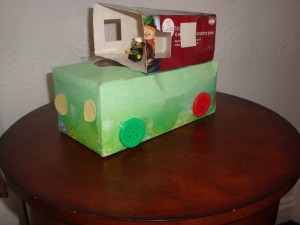 Cars. Cars. Cars.
The LO loves vehicles.
Using what he loves in a fun a playful way took a new turn this week with the    Tissue Box Challenge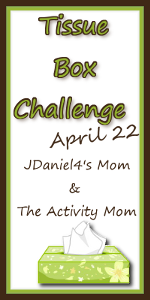 We raided our junk box ( aka recycling bag) and using some other familiar (borrowed) items to make a new truck for him using a tissue box.
This is what he saw when he came down from his nap, thanks to his older brothers who put the finishing touches like a window and changed the little man from a robber to who we have there now.
He pushed it up and down which gave us the idea of prepositions.
As he naturally pushed it under the coffee table we all yelled "UNDER the table" and he got the hang of it and would put it in place for us to say " ON the sofa".
Can you guess which ones?
Hint: If you place the cursor over the photo you'll see
We did a few more over things like flowers but he was happier to see how well the flowers splayed out and how well the truck stuck to on the flowers than over…………
The tissue box was transformed again in hours and parts used elsewhere. Now they had the bug for making it went on for most of the day.