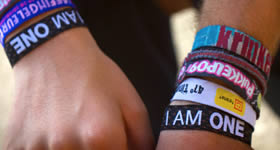 As a busy mum, it's easy to get caught up in our own world and not see beyond our little corner.
My eldest son was born with a club foot. Within days my husband and I were up to speed on the Ponsetti approach to treating clubfoot. We knew our little boy needed us. You are immediately immersed into a new world of terminology, equipment and people just like you. Before his birth I didn't know about the club foot community and now within 36 hours of his birth we were part of something big.
It happened because we talked to others and found community, education and with this new knowledge could make decisions knowing the impact and expected outcomes. Not everyone has access to this type of information or ability to make a change by themselves.
We became advocates. The experience of joining an organization and being part of the experience made it very meaningful for our family and this inspired me to join ONE.
How do you raise global questions with your under 5 child? How do you teach compassion, action and involvement? It's much more than the telling. It's in the doing and doing it together.
Blogging in the last six years has shown me how much we all value community. With increased knowledge we can make better choices. Together our voices are stronger So it's really exciting to be working together, with a group of mums as an ambassador for ONE Mums here in the UK.
What is ONE?
This organisation was cofounded by Bono and other campaigners. It's a grassroots advocacy and campaigning organization that fights extreme poverty and preventable disease, particularly in Africa, by raising public awareness and pressuring political leaders to support smart and effective policies and programs that are saving lives, helping to put kids in school and improving futures.
The exciting part of ONE.org which have offices around the world including the US and UK, is that they are not asking for money but our voice.
These 2.5 million voices and counting advocate on behalf of those who can't; the world's poor.
ONE  works tirelessly on many issues including education, maternal and child health, agriculture and HIV/AIDS and other infectious diseases. Look at the massive impact of ONE voices already.
46.5 million African children went to school for the first time between 1999 and 2008

 Maria Mchele, mother and farmer in Tanzania provides not just for her family but educates her neighbours in farming techniques raising them and others out of poverty with sustainable agricultural systems. Watch her story here
Why I'm excited about ONE?
The effective way they advocate through multiple channels.
The most exciting part for me as a parent is how ONE outlines the benefits of this program through their living proof series. Because of this series, I now share with my children, friends and you why it is important to add your voice to ONE.
What happens next?
These videos tell a story. We all love story. We can make a difference with World poverty. Join with the Ambassadors as we'll be sharing across all our blogs what we can do as ONE Mum with our united voices. Each of us brings a unique perspective and background. You'll not want to miss what's happening.
What's the impact of just my voice?
You'll be one among millions and with that power we have the opportunity to make real change.
It takes just ONE Mum
Meet the ONE Mums
Jennifer from BritMums ::  @jhowze
Michelle from Mummy from the heart :: @michelletwinmum
Alex from Doing It All For Aleyna ::  @allforaleyna
Melitsa from Raising Playful Tots + Play Activities :: @playactivities
Kate from Kate on Thin Ice  ::  @kateonthinice
Michelle from The American Resident :: @Michelloui
Laura from Chez Mummy :: @Chez_Mummy
Go on over to ONE.org. Lend them your voice. Make a date for tomorrow to hear more about ONE
Read more from the ONE Mums:
We don't want your money, we want your voice
Launching the UK's ONE Mum blogger programme
Are You The ONE Mum That Can Make A Difference?