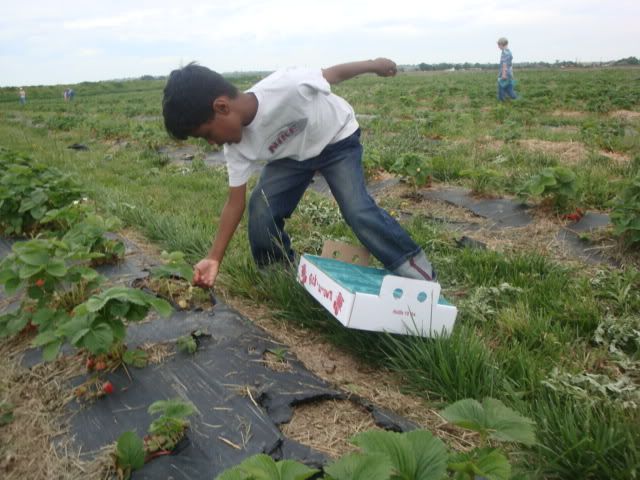 Trips make great play activities for kids. Gets them out and about outside. Plus learning in a different way.
Last week we went Strawberry picking. My 3 yr old wasn't that interested in picking Strawberries but preferred to run the lanes and jump over the strawberries. He was amazed by the size of the other animals on the farm- the huge pig and the size of the Turkey. I guess they are very similar in size to him. I'd we weary too.
 Here my BG(6) became an excellent strawberry picker. The MO was much happier carrying a single box and emptying it or getting a new one. So we actually worked together well as a team. The LO followed in his chariot. He's not had strawberries yet so the chariot worked and he wasn't a happy bunny on the ground today.
We talked about the colour, texture and looked at the sizes. We guessed at why some were mushy and some were half eaten. We learnt that if we pick the green ones they won't change into red strawberries at home. ( Thank you farmer) We were encouraged to eat a few fresh off the bush ( Thank you farmer). Not all strawberries are equal.
.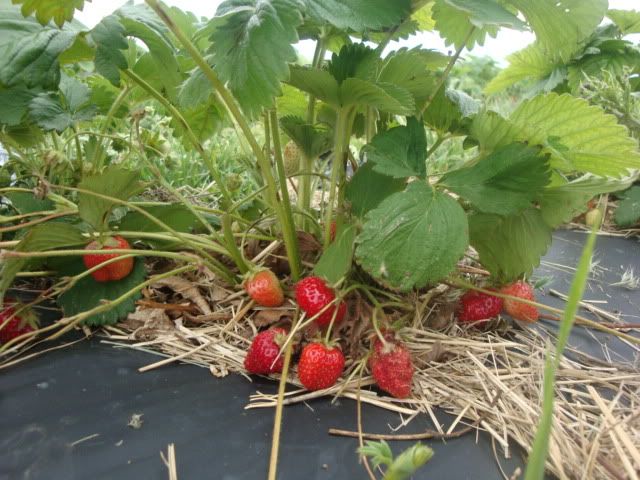 That night I was too bushed to do anything with them at home save sliced with ice cream. The following night we had this strawberry cake.
Both boys helped with the making of the cake.
175g Butter
175g Ground Almonds
175g Caster Sugar
175g Self Raising Flour
2 eggs beatn
400g Strawberries, halved
1 tsp grd cinnamon
Greased and lined 23cm round cake tin.
Rub butter into almond, Sugar, Flour and cinnamon.
Stir in eggs with blade of knife to make a sticky dough.
Spread 1/2 sticky mixture over the base of tine using damp fingers.
Pile berries on top.
Dot remaining mixture over berries and spread as evenly as you can.
Don't worry if there are small gaps.
Bake and serve.
Bake 50 minutes but check after 40 minutes, if the cake is getting too brown cover with foil.
Cool slightly. Loosen edges,
Slide onto plate…serve with icing sugar & vanilla ice cream.
I wish I could show you the cake but I went to the Hot Seminar series and when I came back it was gone and washed up. 🙂 So here's our bounty instead.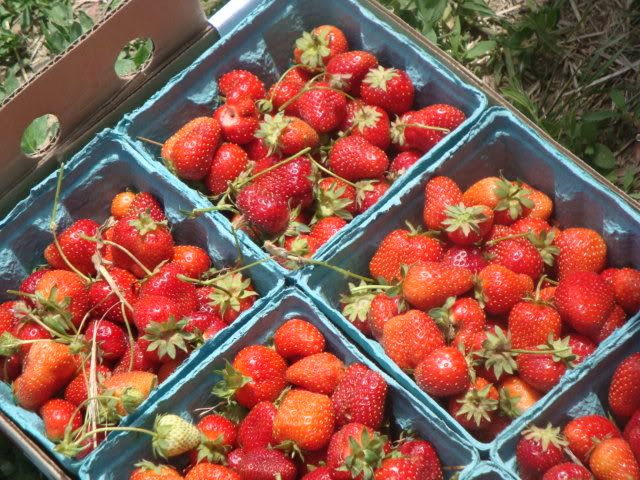 What do you do with your strawberries? Have you taken you children picking fruits yet?