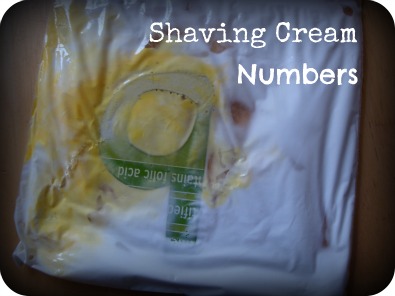 Each child is singing a different song at home.
The LO's current fun song of the numbers 1-10 at the top of his voice.
Plus, the LO is into Hide and seek with his own variation. When you go to find him and you are near he jumps out yelling, " Surprise!" and scaring you out of your skin. Combining his present interests and some sensory fun his older brother (MO) and I started making a sensory number surprise bag.
First we cut out numbers from recycled cereal boxes. We wanted it to be the colourful parts.
Using a sandwich bag , we filled it with shaving foam and drop of food colouring.
Added a random number, squeezed out the air then taped down the bag to the table. ( No leaks!)
Who can resist not pushing on that bag? The MO who had to of course, making sure all the air was out.
Invite for hide and seek
The MO was so excited he suggested setting up a few other bags so his younger brother could go around the table and find new numbers.
Multi play
Like many open ended activities kids will play with them in many ways. The LO was excited by the bag of shaving cream and did all the exploring, tried to lift it off the table. Squished, poked and began to see the colour moving. He's been naming colours recently so for him if this was just a colour mixing activity he would have been excited. But it was more…
Then…..he felt something else in there. It was lovely seeing his face. Examining the bag and really squeezing to get to 'the thing'. Big brother was there to give him some 'clear the bag' technique so you can see further, only a brother can give.  He was just as excited watching him discover the letters he had cut up.
The big reveal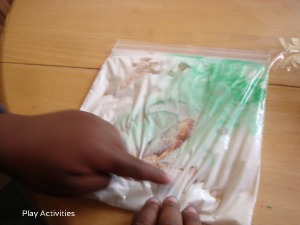 The LO had lots of guess before deciding on an 'S' but it wasn't until he jumped to the second bag and then came back to this first one did he change his mind to '2'.
He traced the number, said the number and of course we were treated to the……..1-10 song!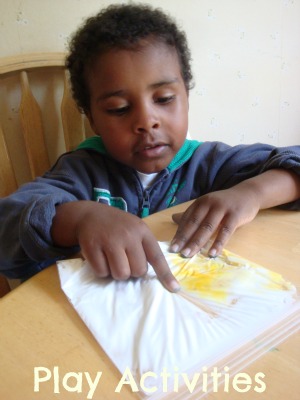 Shaving cream numbers was a fun game that took what the LO found fun and exciting, things he was already working on and enjoying and put them together into a play activity. Seeing the brothers working together was a precious moment, after a day of lots of S.T.A.R work.
Hiding numbers in the shaving cream gave him real work to do, working those fine motor skills. The drop of food colouring gave him a two level activity. Whether to work on getting the colour to spread and/or go for the hidden surprise inside.
If you've enjoyed this everyday sensory play activity you may enjoy my ebook: Everyday Sensory Play Alphabet Activities

More Active sensory play