What's your experience of visiting a playground? Intimidating? Welcoming? How do you socialise with the other parents there? Does it matter to you who is there? Are playgrounds just for kids to play or should we as parents feel welcome there?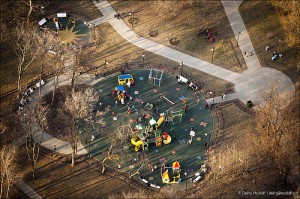 This week's show we talk about playful ways to mix in a playground. We look from the perspective as a newbie to the area or a new time in that park.
Listen::
You can
Listen to this week's show
Podcast: Play in new window | Download
Subscribe: Google Podcasts
Show notes::
1 in 5 people move every year! That's 20% of the United States population. Source
Bring toys that encourage community
Bring toys that you can play then they can play with new friends
Smile and greet the moms as you get the equipment
Melting pot of backgrounds, class, status, responsibilities from teenage sitter, teenage mom to Grand parent and Guardians. We all come for a purpose
Playdate at the park- arrange one with a new mum from the playgroup/nursery
Be open to small talk at the park. Be respectful of the reading engrossed types
Things not to do:-
1. Crowd the newbie and bombard with 100 questions
2. Ask them if they like it here better than where they came from
3. "How long will you be here?"
Invite new people into your well established groups.
Ask about toy libraries, swap meets for nearly new clothing or shops
Playground groups that meet up. Kari of Activekidsclub talked about outdoor playgroups in episode #17 There are stroller clubs, mother and toddler groups. Yoga clubs……
Make a route map of lots of parks in your area
Support::
Post your comments after you've listened to the show below to give back to our guest. We're all interested in your opinion and thoughts.
Cheers.
Share::
If you enjoyed today's show please tell your friends.
Have your say::
"Like" us on Facebook
Join in with the topic of the week from the Podcast
Call from the UK 0203 286 7109 | Call from the US 512 827-0505 ext 3998 leave a voicemail.