" No bad weather only bad clothing!"
Playgroups and gatherings for parents and children have been around for the longest time. What about having an outdoor playgroup? Imagine transferring activities outside and including outdoor activities in a regular club- rain, shine, snow or wind!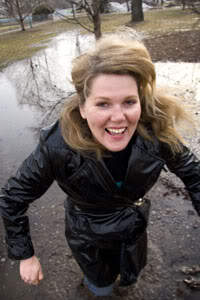 Today's interview is with Kari Svenneby founder of the website activekidsclub.com. Her website provides you with information about everything you need to know about connecting children and adults to nature and play. No matter the weather, she will show you joyful and fun outdoor activities to do in all the four seasons.
Kari is a proud wildcrafter, urban mother, librarian and classically trained chef championing the benefits exposure to nature gives children. Being that Kari is Norwegian, her husband is from Florida and they live in Canada she likes to call three places her home. Norway, Florida and Canada.
Join us on Activekidsclub.com https://www.activekidsclub.com/
activekidsclub.com on twitter https://twitter.com/activekidsclub
Facebook https://www.facebook.com/pages/activekidsclubcom/70001667719
Podcast: Play in new window | Download
Subscribe: Google Podcasts
Subscribe to Raising Playful Tots by clicking the link on the sidebar ( iTunes)
Links
Play Activities survey |Campaign for a Commercial-Free Childhood| NYTimes article | Kari's guest post on starting your own outdoor playgroup
Subscribe to our newsletter. Sign up!