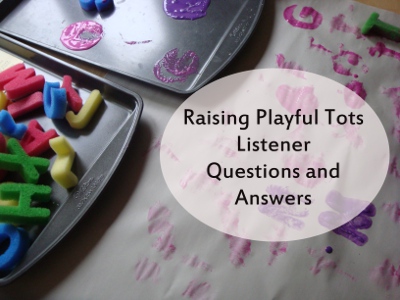 Every week I get questions from listeners to the show and subscribers to the Play Activities Newsletter.
Today's show we have your questions and some answers.
Listen::
Listen to this week's show
Podcast: Play in new window | Download
Subscribe: Google Podcasts
| subscribe through iTunes | on-the-go device
What we learn in this podcast::
For the boys
Get moving
Simplicity parenting
Einstein never used flashcards
7 habits of highly effective families
Activity mom
Rainy day mum
Baby minds
Your child at play
Pink and Green Mamma
Red Ted Art
Nurture Store
Projects
Here's What You Could Do Next…
Now that you listened to this episode of Raising Playful Tots, here's what you could to do next:
Education is meaningless without action. So, tell me what you learned from this episode, and how you plan to apply it to your family in the comment section.
If you enjoyed this episode, do me a favor and share it on Twitter or Facebook. Or better yet, send a personal email to one of your friends whom you'd think would love this.
This part is important. I'm currently have only a few reviews on iTunes, and I need to get to 10 reviews. If you have a few seconds, can you please go to iTunes and leave me an honest review (after subscribing).
Thank you.