This is the answer post to Guess the Nursery Rhyme. If you're not familiar with Rhyme time, the previous post to this one there is a photograph of a nursery rhyme. You with your child try and guess which one.  I love participation so I've included a Mr. Linky at the bottom of that post so you can join in with your pretend play inspired Nursery Rhyme. So that you can guess without peeking. I try to do a separate post with the answer and some of the ideas we did. This is it.
The answer to Rhyme Time nursery rhyme
London Bridge is falling down

Falling down

Falling down

London Bridge is falling down

My fair lady.
For the origins and more verses of London Bridge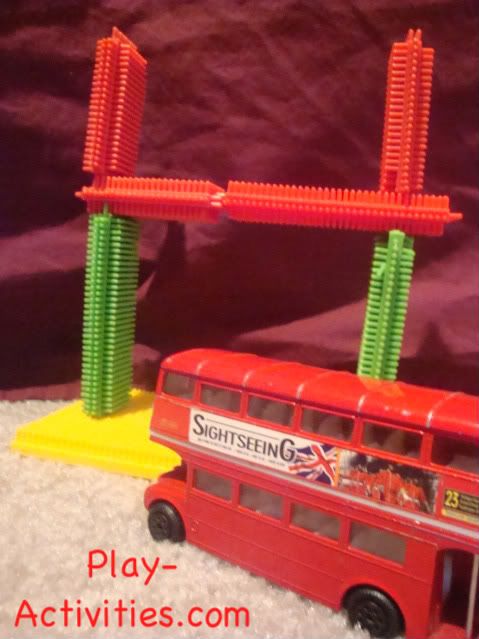 This was a set up I did for the MO.
We sang the song.
Played with the stickle bricks  to make more bridges.
Found our wooden blocks and did the same.
We balanced our train and lego figures ( whatever figures we could find) to see if the bridge would bend.
We tried to bow the stickle bricks with our hands but had much more fun realizing they would ping across the room if we did it just right 🙂
Since his brother is learning to read the MO has be imitating a lot more recently and moving his finger with the words( they don't correspond but he's enjoying the play and believes he's really reading) We tried this Rebus version of London Bridge. It was a little tricky but the chance to be on the computer weighed out any frustrations.
MO had super heroes fly over the bridge. He used a block to make a boat to go under the bridge.
The other activity we planned to do was to call someone and sing the song over the phone. ( We ran out of time)
The LO chewed the stickle bricks while the MO played for about 15minutes more independently.
I know there are a lot more scientific and geographical activities we can do with this Nursery Rhyme. Today I followed the lead of the MO. There will be plenty of time to do more with this Nursery Rhyme another time.
See you next week. What will you and your child try for Rhyme Time?