This is a repost from June 2007
If you don't record them you'll forget them.
Try this simple easy and cheap hour of fun!
So here is my son's current favourite play activity. Running away from the crocodiles whoops that should read crocodimes ( pronounced croco- dime-es)
He had been drawing forever. We have a huge pile of papers. He let me reuse his drawings as stepping stones. Very environmentally friendly son. Thanks!
I set him the challenge of crossing the shark infested sea to get to the dry land without being eaten. He changed the story to crocodimes as these are his favorite chasing thing to be scared and running away from….other than monsters.
Here he is balancing on a sheet of construction paper A4 size……about to enter infested waters. Little brother tore up junk mail paper to keep himself amused so they became the crocs on the move.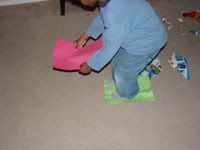 He felt the boats had to touch…
Little brother still manufacturing 'crocs'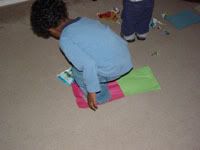 Jumping…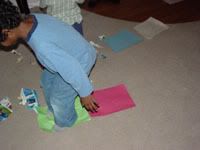 … after some time…..
He made it!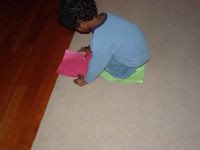 The next picture should have been the leap to safety but little brother came to claim the boats as crocodiles. I had to make the mad dash over and that was that!
This kept us all amused for over half an hour.
He hopped, jumped, leaped, added more stepping stones, tried to go faster and then finally wanted to race me. His brother made a huge pile of crocodiles that filled the floor and just stepped on these. I had the feeling he was looking at us both and thinking…..you just have to do this it' s much easier.
Other things to do
make the paper smaller than A4
have team races with play dates or family
Try strips (rectangles) instead of squares
play a song and see if you can get across before the song finishes
make the infested area smaller/bigger over obstacles like cushions (mountains) etc
Before you throw away that paper, junk mail, flyer or your umpteenth bit of art from your little one- Challenge them to a crocodime race! You'll have a lot of fun and laughter!