When was the last time you climbed on a slide?
Ran around the [tag]playground[/tag] chasing your son or daughter playing tag?
Saturday afternoon the family set off to explore a new [tag]park[/tag] in another neighbourhood.
The kids ran ahead and were busy climbing the 'dinosaur bones' by the time we both got there.
Over on the big playground, like the one below, were a [tag]family[/tag] [tag]playing together[/tag].
Everyone.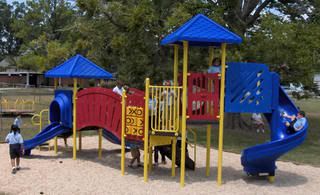 The Dad was busy playing a game of tag that involved chasing his 5 kids and his wife all over the playground. They were squealing and screaming and generally having a great time. Their version of tag meant that you could unfreeze someone and they went to great lengths to free each other before trying to get to home base- behind the dinosaur bone.
They played different versions and the kids chimed in with new rules as well. It was a huge playground and they moved quickly over it.
We pretty much had the playground to ourselves that day. Only one other family who were on the swings.
It was boisterous fun…until we arrived with our little guy. The dad stopped everyone and they all stopped- wish that'd happen to me- and told them all to watch out for my little guy. And you know they did. As they came thundering by in hot pursuit they would stop and let him pass. He was so curious to all the noise and commotion, he was always trying to follow one of them. If they bumped him they stopped and picked him up and asked if he was OK and apologised. The chaser would give them chance to get away again. So all was fair.
What made the trip for us remarkable was the spread of ages they were from teenage girls down to 2 under 5 children. All playing well together. All running around and with Mum and Dad. The parents weren't sitting around the edge like I had planned to do but actively chasing around and worn out.
They played for while and my oldest joined in- guess they were a lot more fun today than us. I didn't blame him it was exciting being around that energy and fun.
It became far too windy and chilly so we all happen to leave the park around the same time.
No wild hysteria from their kids- that often punctuates our park visits- "I don't wanna go home!" But [tag]kids[/tag] running and parents arm in arm ( We secretly believe, holding each other up after all that running around! But more truthfully just happy to be in each others company.)
Everyone was [tag]happy[/tag] ….and leaving.
This happy family scene made me think of the saying "The family that plays together stays [tag]together[/tag]"
I wondered about our family[tag]play[/tag] [tag]activities[/tag]; if my kids feel as happy about a trip to the park as these kids seemed. Would I be running around with my kids as they got older or would I be too self conscious about it all?
I wouldn't want to be running around every time I go to the park and indeed don't. But how many times have we had [tag]family time[/tag], at the park and it be one of us to each child and not us doing something together.
It made for an interesting discussion on the way home.
*********What do you do at the park?*******
*****How do you spend family time at the park ?********
Here's what others have done
The Family that Plays Together… Is Much Healthier!
We are looking for some suggestions.
What do you do? Let us know below…Thanks