Take a trip to your garden centre now and you will see that it is bursting and overflowing with plants and flowers. Supermarkets and grocery stores have bright blooms at their entrances to entice you to buy.
With the warm weather we decided it was time to start planting out. We had come from a street in Europe that put on a beautiful display of flowers every spring. The boys and I haven't known any different so although transplanted to the US we wanted to fill the front deck with flowers.
Different flowers and containers since we are in a different climate not too mention elevation, meant we had a lovely long amble about choosing window boxes, colours of flowers and how many we wanted. Then choosing the soil and what equipment to use.
The boys had a riot smelling the herbs and choosing seeds.
Some of the bird feeders were lovely but raised more questions like would it be high enough away from the dogs? and would they eat the seed that falls? or chase the birds? So we stayed away from the finch and hummingbird feeders…..maybe next year.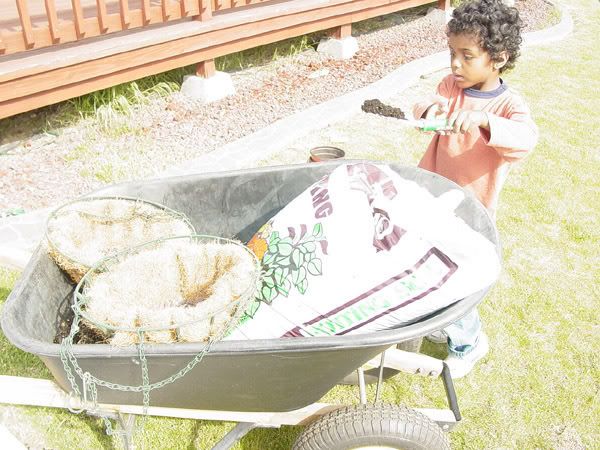 The afternoon was warm and in the shade we planted the flowers and laid the seeds. Some of the flowers didn't make it and were pulled out without the roots or the soil. But most made it. We collected rocks for drainage and counted and filled the bottom of the container- no soggy plants for us!
We poured more than planted the seeds as they kept disappearing through little fingers so I'm imagining clumps of parsley in 6 weeks-hopefully.
That evening we gave everything a good soaking with that Miracle grow stuff and water from a tiny watering can. What was I thinking? It kept both the toddler and preschooler happy running to the tap and drowning the thirsty flowers and herbs.
The preschooler was so proud of his efforts everyone that comes to the house, including the postman who drove on by in his cool van mid shovel, was told in a lot of detail how he choose, and was now planting all his flowers.
"They look beautiful." was always his ending. Before dancing off "Bye!"
We bought
parsley and basil seeds and one parsley plant (insurance incase the seeds don't come up)
4 geranium plants
Dahlias plants
Gazania plants
Lovely hanging basket plants
We spent a fun time together choosing and planting out the flowers, plants and seeds. It took a long time with a preschooler shoveling and missing but I wouldn't have missed that in the world. Every morning he's out there with the watering can……let's hope they grow.
**How does your garden grow? What are you growing this year?
We'd love to hear…..**