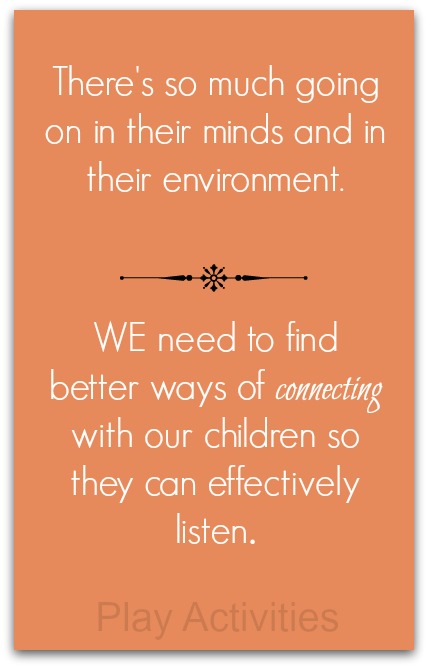 Getting our children to listen to us is a frustration most of us face daily. Getting our spouse, siblings, work colleagues to listen to us too. Listening skills is one of those things that some people have and many of us can learn to do better.
Last time we talked about the listening ups and downs. Today we're looking at some solutions for us as parents to try starting from how we start conversations to what we can do to help the children be better listeners.
We need to have listening skills and habits.
This is by no means the list to end all lists. I'm eager to hear what you do in your home. It's always good to have a range of ideas to try so jump in with your ideas too.
Golden rules for us – Listening dos
These aren't in any particular order or rank. We regularly mix it up and combine different ones depending on the situation.
Think age/stage. Before the interaction ( or as you open your mouth!) What do I need to do so my X age/stage child can hear me?
Touch them.
Get down to their level.
Pause from what we're doing
Look them in the eye.
Use their name.
Family listening skills has been a recurring topic at our family roundtables recently. This is the perfect time, away from the incident to actually share how we do it.
We use some silly puppets to share what happened and the boys chime in with ideas about what could be different. We've have mini sketches where hubby and I act it out.
The best thing we've done, in my opinion, is print out a whole body listening chart, like this one and refer to it. If we're sharing something we ask for whole body listening and you seem them move into a better listening position.
It sure beats saying" Listen" and "Stop doing that!" all the time. It doesn't eliminate it, you must understand but it reduces the distraction that those types of phrases bring along with how they lead us ( or is just us) down the path of telling the children off about something totally unrelated totally derailing the conversation and frustrating everyone.
Touch has also been key with our boys. Some how the connection of touching them gently gets their attention. We all get engrossed in activities and the kids are the same. Rousing them and bringing them back is a softer and gentler way of starting the conversation.
There's usually a smile and a chance to start positively by talking about what they are doing before starting what you're saying.
We all about doing unto others as you would wish and if I'm working or reading I would love to be touched before someone launches into a conversation, in our family, so I don't lose my place or have a chance to finish up a thought. It's something we've talked about and like.
I would say our listening skills in the family is better which is good. We all still have listening to work on, some of us more than others, and that's okay. I know I talk too long and that's not good. I'm trying really hard to be shorter. We're not aiming for perfect children stopping immediately to listen. They aren't robots! We are working on making sure we are all heard.
If you enjoyed this article you'll enjoy  this one from Not Just Cute: Kids Not Listening? Four Things You Can Do Right Now To Get Them To Tune In
If you have some suggestions or resources around listening for us or listening tips for the kids, leave them in the comments.
If you're looking for simple parenting notes check out the Raising Playful Tots Note