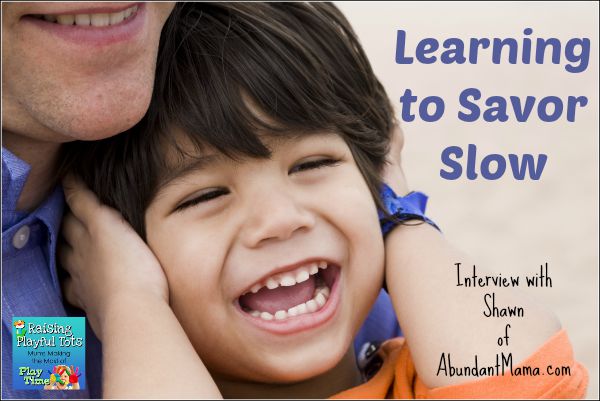 Savoring Slow with Shawn Fink of Abundant Mama is the inspiring and uplifting podcast for you this week.
This show is for intentional parents and those on the road to intentional parenting looking to slow down and redefine the pace of family life.
Shawn shares tips and ideas that help you decide what you want for your family. Never one to prescribe, she offers some neat ideas to get us thinking and doing. We also talk about the loaded word: slow. What does it really mean?
Any comments about the podcast use the Voicemail
Use the hashtag #creatingfamilyhaven
Raising Playful Tots – the podcast for parents who want to make the most of their playtime and enjoy simple parenting
Podcast: Play in new window | Download
Subscribe: Google Podcasts | Stitcher
Click the play button above and let's get some ideas
 Shawn Notes
The benefits of  choosing savoring slow?
What does it look like to be productive and live a slower life?
How do you make sure rest happens so playdates and meetups happen?
Which one of your 12 habits really changed everything in your family?
If you're at a fast pace or busy- what can we do right now to savor slow today?
How do you believe that getting in touch with your personality type helps you be a better parent?
Listener question about Self Care: Getting up before anyone else to have some quiet time really appeals to me but my twin girls want constant cuddles at 4am. How can I have a quiet time and be productive in the morning?
Ideas for Self care activities throughout the day
I'd love to hear from you about the show.
WHAT TO DO NEXT:
So you've listened to this episode – if you liked it and want to hear other ones – and I really think you will….you should do this right now:
   How to listen and subscribe to this show
New to Podcasts?
If you've enjoyed the show please take the time to share it with friends and leave a review for it on iTunes or Stitcher.