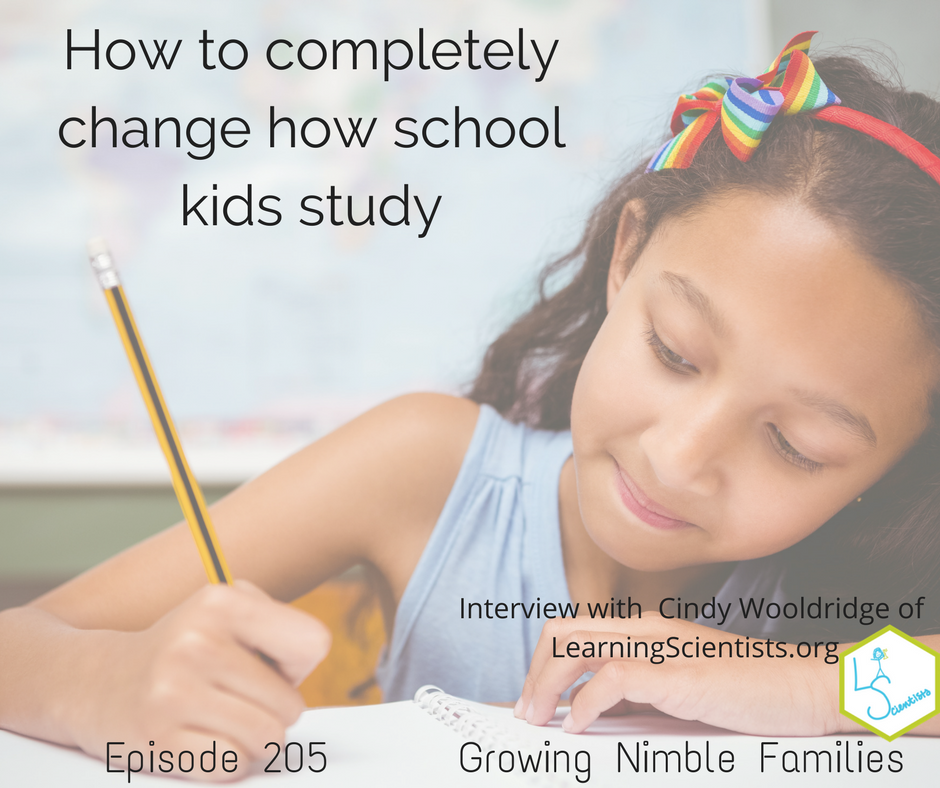 Podcast: Play in new window | Download
Subscribe: Google Podcasts | Stitcher
Did you know there are six scientifically better ways to study and prepare for tests and quizzes that will help kids learn?
As kids are starting back to school many are experiencing those words, " Study for the test on Friday!" and coming home and reading through their work the night before ( morning of!) believing that this is a good way of studying. It's generally the only study method they know at the beginning.
Parent's edition of study skills at home
This is a Parent's edition of how to study to support the studying and revising that happens at home.
We all get used to ways of studying and working that suit us. Our children may learn differently to us. Whether they are entering 3rd grade and beginning to have spelling tests and short quizzes and are looking to start out the study habit right or you are looking for some different solutions to a frustrated situation this episode has something for you.
We go through how to have good learning habits that avoid cramming ( as the only strategy- listen to find out why that's not such a good idea!)
In this episode, Cindy Wooldridge from the Learning Scientists.org talks about the 6 learning strategies that work for school age kids to use to study better. This is a special parents edition. You may be thinking, Schools teach study skills so I don't need to worry.  Maybe you don't but children need the time to get comfortable with new skills.
They need time to practice.
They need time to master.
Mastery takes time and the school age years give ample time to gradually learn these skills before they plunge into multiple tests and prep.
Growing Nimble Families podcast encourages the celebration of school age kids traveling through middle childhood
Show Notes
Encouragement for parents who are worried about how to help students learn/ study and start good habits
What's the best way to help our kids when they come home with those notes in the planner that says, "Study for the test on Tuesday"?
Resources: Spaced practice
What would you teach first for learning strategies
Retrieval practice- "Having the problems and coming up with the answer for them or seeing the terms and coming up with the definitions themselves and then going back and checking their work."
Resources: Retrieval practices that work
Studying is more than reading over the work the night before.
Spaced practice- "spacing out the study over time"
Why did you choose these 6 strategies?
What are the other 4 other study techniques and examples I could try?
Elaborate- "constantly asking why and how do you find out about this."
Interleaving- "switching things up instead of always studying in the same order change/ or different subjects."
Concrete examples- "coming up with real world examples for the material"
Dual Coding- "idea we tend to learn things better when we have a picture associated with it."
In one ear and out the other why cramming isn't' the answer over time if you want to retain and reuse the information
6 learning study strategies that work for parents with school age kids from @acethetest
Do any of these work better with elementary students?
The case for letting kids find their best way to study and how we can guide them without taking over
Supporting school age kids to navigate the school systems to know grades, contact teachers, find information on the teacher's webpage and learn how to make study timetables etc.
The hidden shame of studying and study skills
The struggle as a parent to let them try and when to intervene especially when you see things aren't going well.
Ideas about how to start doing these study ideas age appropriately
The LearningScientists.org has lots of fantastic resources with videos and downloads.
Here are the posters I mentioned in the episode, and the bookmarks.
WHAT TO DO NEXT:
So you've listened to this episode – if you liked it and want to hear other ones – and I really think you will….you should do this right now:
   How to listen and subscribe to this show
I'd love to hear from you about the show.
Any comments about the podcast use the Voicemail
Use the hashtag #creatingfamilyhaven
If you've enjoyed the show please take the time to share it with friends and leave a review for it on iTunes or Stitcher.
**Pin and Share**