Pinterest housekeeping
Over the years we've been collecting Christmas ornaments in a box.
The box has got bigger each year as the children make more, more goes in at the end of the season. Each year it is a surprise what we have inside as things slip down. We have no real system other than, if it's Christmas it goes in the box.
Pinterest can get like that sometimes.
All the different pins and new boards. You can end up with your boards in a mess. It's a bit like the Christmas box. Except- no one needs to see inside our Christmas box but everyone looks at your pinterest boards.
If it's pretty hard to navigate through your boards or find pins who will follow you?
If you're looking to connect with people then you need to show your best first.  Get a little organized and do a little Pinterest housekeeping. We want to see who you're about really quickly. We make our choice in seconds. Follow these simple steps to become more attractive to new followers on Pinterest.
Organize your boards
Seasonal and topically boards move up and down the board and soon our board layout gets all out of whack. Plus joining collaborative boards  and time sensitive boards it's hard to keep a track of where everything is.
Here's an excellent tutorial on how to organize your boards. You'll want to offer your attractive boards up front.
Let me know about you in your top two rows
When we follow people we likely glance over their entire board set but the top row is where we often look first. Have your most important boards there. The ones that show who you are.
If you blog, podcast or have a business I would put your board first. We don't have to search for you. We can see what else you have on offer.
All quickly and easily accessible.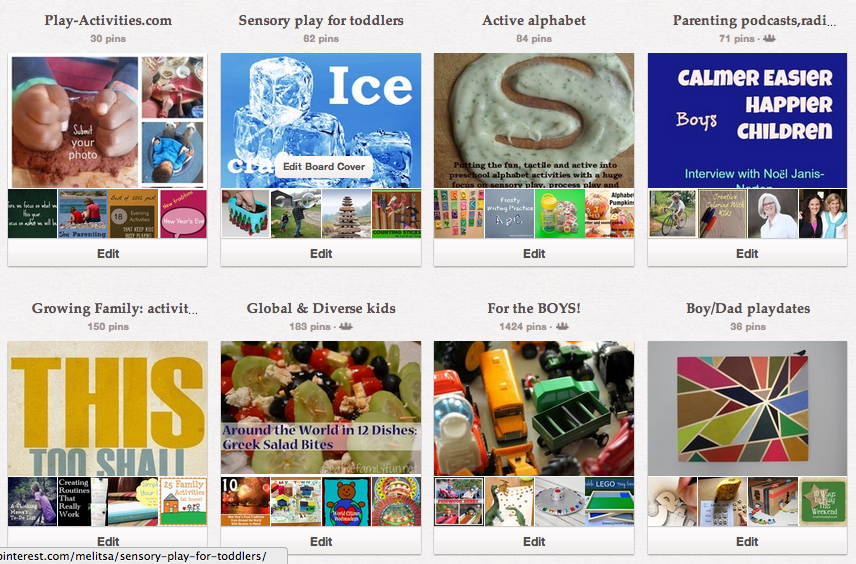 Fill out your profile
It's always good to see who you are. There are so many blank areas. It makes it easier for me to skip over you and find someone else. Make me stop and get to know you better.
You may love chocolate, be a mother of girls, vintage fan, love play activities, love food and cooking. You see something that interests you click follow all or search for those special boards……after we've looked at your profile.

Follow collaborative boards in your favourite areas
When you follow all boards of that new pinner- check that you're following their collaborative boards. If they are not the owner of the collaborative board you often have to click to follow the board separately.
You can tell it is a collaborative board by looking at the symbol after the pin shown here with an arrow. There are 7 collaborative boards below.
Collaborative boards introduce you to more people in your interest group and fill your stream with new and interesting people that you can follow. Plus providing a variety of interesting pins to repin to your stream. We all love variety.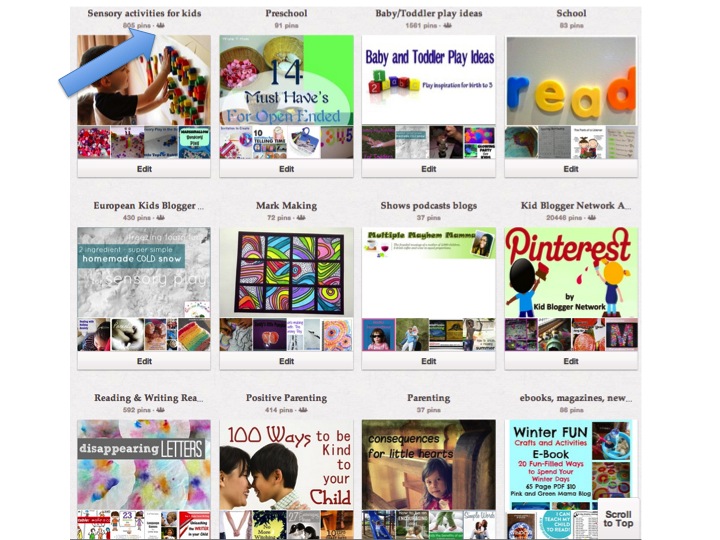 ….. Join up with a group of likeminded friends and develop your own collaborative boards
How about doing some Pinterest housekeeping this week.
You can follow me on Pinterest  where I pin intentional adventures in early childhood play and parenting. Come have a look around.
Getting started on Pinterest I have a video that helps.
So over to you, What are your Pinterest housekeeping tips that help keep your Pinterest boards from getting like the Christmas box?