Play and learning go hand in hand. But fitting them into your everyday life can be hectic. There are infact so many ways that your child can [tag]play[/tag] and learn from being around you and participating in everyday life. Things will take longer but childhood is a time for [tag]learning[/tag] and a new skill as a parent is patience…..right?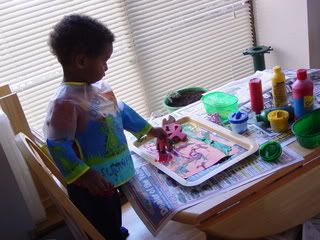 We're there to teach after all and give them the opportunities to fail and try again in a loving atmosphere.
Many are familiar with the [tag]Ages and Stages questionnaire[/tag] used in Doctor's surgeries for the [tag]well baby check ups[/tag] to see how your child matches up to the average. Like centiles rates, some parents live and die by them. However they do provide excellent guidance if you're not sure. [tag]Early years[/tag] intervention have a battery of tests and often include this one as it's written in clear easy to understand questions.
I stumbled upon this great website [tag]BornLearning.org[/tag]. They produce an approved and reviewed by the [tag]American Academy of Pediatrics[/tag] Ages and stages document that gives an excellent overview of a typical child. An example 24-36 months
Sometimes we just don't know if the play or behaviour our children are showing is age appropriate and often on forums I see posts from worried parents who've compared their child with friends and come up short. Maybe it's because there's not a [tag]developmental checklist[/tag] through their doctor's/ health visitor.
How do we know if our children are under achieving, doing fine or actually doing well- objectively and not just compared to family3 who live two doors down?
In this competitive time the ages and stages can really be an objective look to go alongside the views of friends, and well meaning forumites. It also gives you ideas for games and activities to enhance the play or bring on the skills.
For more information about games and ideas see my previous post on development games and activities.

As parents we have so many things to keep track of like dentist, doctors appointments, homework, rotating toys, playing outside, nutrition.
So moving a child on when they are struggling, or not knowing your child is stuck can be disheartening but know there are many great resources out there that don't require expensive toys just you and your child.
**What do you use to monitor your under 5s child's progress ?**