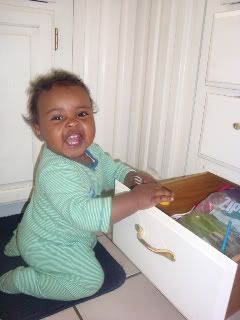 This is the LO favourite draw. Now he's mobile. This draw is his brothers MO draw when he was a little older than this age. Now it has all sorts of things in it. It's time to sort it out for him……because he's in it all the time.
LO loves dumping everything out. It means he can be in the kitchen with us. It makes sense for us to have the draw but cleaning up is a bear.
He loves it.
Thanks for stopping by my [tag]Tell me Thursday[/tag] post explaining the story behind my [tag]Wordless Wednesday[/tag] photograph. Find other TMT posts here.