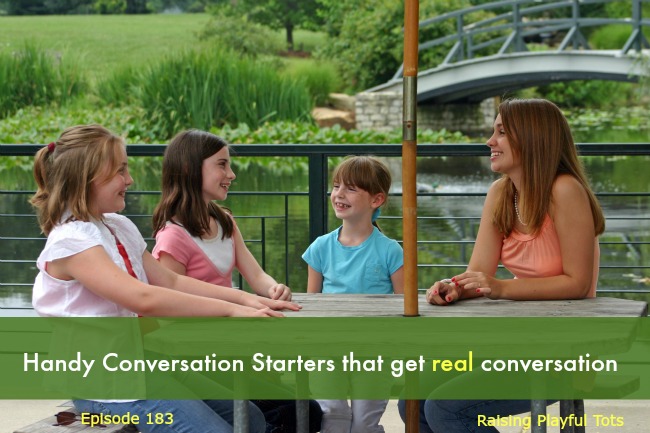 Podcast: Play in new window | Download
Subscribe: Google Podcasts | Stitcher
Not everyone in the family loves to talk and share. Finding conversation starters that match each one is often hit and miss. As the children get older there's a lot more eye rolling and they spout what they think you want them to say. It's time for a different type of conversation starter.
Apart from the usual yes and no questions, as parents we wonder what our children would do in certain situations. What they know to do and what they do is often very different. I share that in a story I recall about a Minion in this episode.
What would happen if as parents we could talk about what we would do in the moment before it happens?
I think we can and have great conversations that show families values and attitudes in action not just what they think we want to hear.
During this episode we talk about having and initiating conversations when you have different aged children about subjects near and dear to your heart without getting the eye roll or that forced feeling.
The trouble with most conversation starters
When you feel the family pulling away from conversation they used to participate in.
What you can do instead when you start getting the eye roll or the guarding of answers
How we can learn from our children's mistakes.
How one family adapted and changed the way they have conversations
Solutions to conversation starters for on the go parents in the car
Solutions for conversation starters during meal times
Raising Playful Tots – the podcast for parents who want to make the most of their playtime and enjoy simple parenting
Click the play button above and let's get some ideas
This is part two of a three part series on setting our homes for success.
Show notes
Download your character conversation card from the episode
Activities to do at meal time and the books and cards to use to encourage conversation past the one word answer.
WHAT TO DO NEXT:
So you've listened to this episode – if you liked it and want to hear other ones – and I really think you will….you should do this right now:
   How to listen and subscribe to this show
I'd love to hear from you about the show.
Any comments about the podcast use the Voicemail
Use the hashtag #creatingfamilyhaven
New to Podcasts?
If you've enjoyed the show please take the time to share it with friends and leave a review for it on iTunes or Stitcher.
**Pin and Share **