3 things that we couldn't do without on our car trips.
We think you'll like them too.
Treasure Basket
Action figure
Memory Game
Treasure basket play for my youngest( 9.5months). We brought along a small collection of objects that swapped as time went by.  Happily his favourite is the teaspoon which we had brought anyway for his lunch.  He looked a lot in the little hand mirror. We were sure he was kissing himself but I think that was really wishful thinking. The steady flow of different items kept him engaged and entertained. Better than the board books we had brought. I've written about treasure basket play for babies before and during Operation Playtime. I've just finished an ebook that gives more examples and shows you how to use a treasure basket with your baby to get the most out of it for you both.
Learn more about treasure basket play
Action figures
We are definitely in the superhero phase. It didn't matter which one he took up I could hear the action figure doing all sorts of things. The sound effects were loud enough for me to hear ( He's in the 3rd row) lol. To move the play on from just sound effects. All the adults asked lots of questions-
Where is he now?
Did he help save his brother?
What happened?
What will happen next?
Why did they do that?
We helped build his story and fill in blanks.
What's his name?
How far away was it?
Did they do it all by themselves?( big deal for my toddler/preschooler right now)
After he said "The End". We would retell the story and ask him what happened next? Both together. He did play a lot more by himself without any guidance and with his carseat buddy his older brother.
">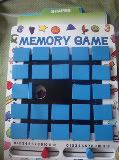 This Travel Memory Game
was great for the BG ( 6). He played with Grandad across the seats. It's just like memory but without the huge table needed for all the cards out. There are interchangeable themes- shapes, fruit and vehicles. You flip open ( as shown) a tab and then another. If you get a match then you score points at the bottom.
Going on a car trip- plenty of time for creative and exploratory play by the baby; pretend play with the toddler/ preschooler and perfect car trip games for the Kindie.  There are times when a music CD or a DVD becomes essential but a little careful packing and these will become firm favourites.
Other road trip games to try ( @ = twitter name. Click to go to webpage)
****** What car trip games do you pack? *********