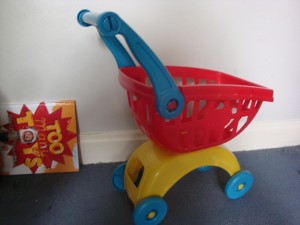 Nothing beats being able to carry things everywhere. The LO loves moving things in his trolley. He'd just rediscovered the long lost book, in the picture.
Summer is moving nicely with a trip to the farm and lots of unstructured playtime. How about you? What have you been up to?
On the eve of the Olympics we're brushing up on the national anthems of a few countries. We know our own anthems but have you listened to national anthems from around the world? Now's a great time to listen to Olympic teams anthems you're keen on.
Listen to our list of national anthems and sing-a-long too.
Friday Finds is the place to unwind, grab yourself a comfy chair and reflect on your past week then plan for the upcoming one. With a little something to make you think, for them to do and for us to listen or watch……. We are putting ideas into action. Challenging ourselves to do a little differently. Be inspired.
Link up your posts  that fit one of these categories.
Enjoy your weekend!
Goodness for the mind: Boxed in, wanting out :: The Boston Globe
Activities for the body: Olympics for kids :: The Activity Mom
Goodness for the eyes and ears: Helping Children Listen :: Parenting Simply
This week on Raising Playful Tots podcast::  Emotional intelligence Emotional Literacy- Your baby can read
If you enjoyed this article, get the Play Activities Newsletter. ( It's free!)