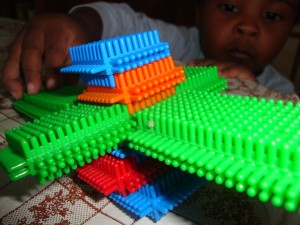 The LO is moving out of the sticklebrick stage but every now and again he has fun building something.
Friday Finds is the place to unwind, grab yourself a comfy chair and reflect on your past week then plan for the upcoming one.
With a little something to make you think, for them to do and for us to listen or watch……. We are putting ideas into action. Challenging ourselves to do a little differently. Be inspired.
Enjoy your weekend!
Goodness for the mind:  Plan a Simpler Summer with Kids :: Simple kids
Activities for the body: "M" IS FOR MONKEYBARS: Getting Ready for Writing::  Moving Smart Blog
Goodness for the eyes and ears: Dealing with " I'm stupid" from our child ::  Adina Soclof
This week on Raising Playful Tots podcast:: 99. Play and the SEN child
Hi to the folks who have popped over after hearing my interview on Dream Corner.
If you enjoyed this article, get the Play Activities Newsletter. ( It's free!)