It's that time and you're email address shopping for your child. We've had a family email account for a little while as a handy catch all for all the children. It's been useful to not have to set up separate accounts and all the friends could get each child right there. It was a taste of what's to come.
As they get older the children have more rights and responsibilities and an email address is earned because of all the responsibility that comes with. There are so many things to talk about never mind all the fear based stuff we all see as parents.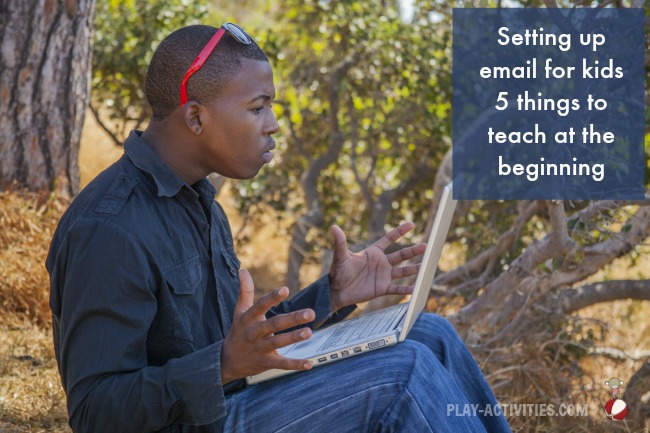 Before I sent off my son with a new email address after the technical wrangling behind the scenes I needed a checklist of things to talk about. Cool Mom Tech has an excellent 11 point list of things to teach your child before they get their first email account  that we followed. I've added 4 things to teach or have at the very beginning that we found useful, along with a three messages for us.
"Check your email regularly"
I don't know whether this is a boy/girl thing or a personality thing but son, remember to check your email. Also replying in your head isn't the same as clicking reply, typing and sending. Nothing is more frustrating than messages sent that require a timely reply not picked up. It's good practice to check email. Find a good level. It might be daily, every few days, weekly?  Just because I see your mail doesn't mean I need to remind you to reply to messages.
"Find a system for usernames and passwords or use software"
Remember that iceberg picture with only a piece sticking up and most of the iceburg under the water? Your email username and password is just the beginning of the 100s many usernames and passwords you will have. We've talked about gender neutral usernames and building unique passwords but where oh where will you keep this safe? I like LastPass but there are many online password protection solutions. Post it notes on your desk is a no no.
"Enable undo send"

 There will be many times that you hit send and remember that you forgot to add something in the email, want to change something or realise you just shouldn't send that email.  Just changing this one option gives you a little time to recall that email back. In gmail there are 10, 20 and 30 secs under setting > general tab.  You won't regret it.
"Learn to love filters and search"
Remember when you were signed up to get  " A year of awesomness" and you would get those emails in the family email address? Also there were emails from all those other places. It was a mess right seeing all those different emails in your inbox, until I showed you the filters.
Now all of the AYOA emails had a label- AYOA and you could find the next one and watch it. This is good practice to label school work, subjects, band, sports class especially if you want to keep everything together. When you sign up to learn something like study skills and get a newsletter you'll want to keep these in one place.
Search works well too but filters and labels are even better. Try them out sooner rather than later.
Things we should consider
Teach them the value of using the Parent Portal
One of the two schools the boys go to uses Parent Portal. It was totally new to me and I must say I've gone through all the cycles of checking in daily to once a week trying to get the right handle of hands on and hands off parenting.
Parent Portal is the place where all the grades for the children go and you can log in ( get an app too) and know your child's grades. Parent Portal is great for our children to keep on track with their progress too.
The 'parent' part of parent portal shouldn't put you off from encouraging them to use it.
Parent Portal is another discussion but whether you're new to the discussion or in the midst, I think you'll love the discussion here with Jessica Lahey and her book, The gift of failure.
2. All those remind messages, club information now has a place to go
Part of teaching them responsibility and time management is for them to experience finding a way to remember things and some of the consequences of forgetting. At the moment we may get some or all of these reminder messages during the year we must gradually share this burden. Maybe teaching them a few sequences we use.
Don't forget to set up the email part of the reminder messages to go to this new email account. It may mean you get things twice but this is a step towards coming off those messages.
3. Get a family email address
As a new rite of passage we're introducing a personal email address that doesn't end in gmail or hotmail.com. We went and bought a domain name. Set it up within an email system.
This means that each child will have a unique, personal email address with the same domain name. For example: tony@insertyourfamilynamehere.com. Our next son would have tonysbrother@insertyourfamilynamehere.com etc.
There's plenty of time for free email addresses and multiple email accounts. For his first one we wanted it to be a little special and we hope it's the one he uses the most. We like the idea of a first name and family name as dippydinosaur@freeemail.com wasn't the best way to send a more serious email.  This way start as we mean to go on.
What types do you have on email setup?
What did I miss?
*Pin and share*