Cleaning up is way more fun when you have clean up music.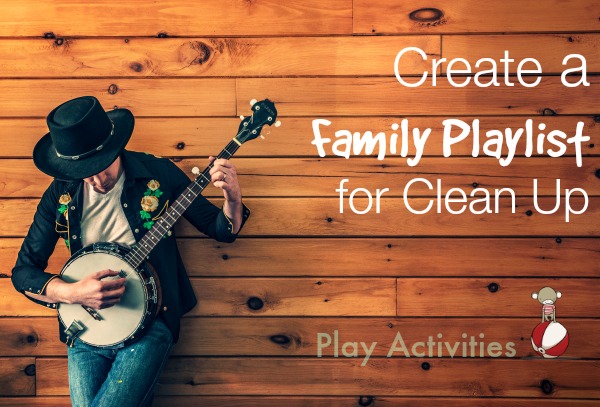 Ask your preschooler. Clean up music makes all the difference to get things done.
Some of my clearest memories are of my parents singing and getting down when a favourite tune came over the radio. That sounds so old school now but when you didn't control the music and your jam came on. Phew! Sometimes you had to stop and just rock out. Seeing my usually very straight laced parents cut loose, in their way you must understand; smile big and sing is a memory I cherish.
We sing a lot in our family. We mimic Lyle from Veggetales and sing instructions. Usually when we're starting to get tense. It's our way of trying to calm ourselves down as we're rapidly moving through 7 and 8 on the way to 10!
Used positively we love to sing, dance and rock out while we wash dishes and clean up the kitchen. After the meal explosion of dishes, plates, cutlery, pots, pans there's the sweeping up and setting things back straight. With a family of three boys we try and do this together so it doesn't take as long and frankly I want the boys to not just arrive eat and leave. So it's a family affair…clean up.
I don't know about you but I'm tired after a full day of work, kids, cooking and life and the kids can be a little niggly, pick on the slightest thing, not want to be here and yes be tired too. All of us in that tight space can add up to snappy turtles after usually a lovely peaceful pleasant meal. Boo!
Music changes the mood and we all can shuffle, smile, laugh at the new lyrics we all are sure the singer says and GET THE JOB done in a smoother simpler way. Creating a family playlist happened because it's too hard to keep finding the individual songs. We have ipods and an ipod station so we just load up onto our family playlist and keep on going.
What gets on the Clean up Family Playlist?
Some or all of these in no particular order:
upbeat anthem
Something from the past ( so mummy and daddy tell a story about it!)
Something new ( the kids can choose)
Family sensitive lyrics ( or lots of explanation)
something you nod your head to, jiggle, do a little dance, hold your hands in the air…..you know the score.:)
Like all good radio stations we have a fun DJ played by one of us. We have all request live where each one in the family can request from the playlist one song. That's five songs for us already and after that we shuffle songs or let the songs play on.
So here's your mix tape.  It's just a selection from our clean up family playlist. Load up your own family playlist of music and play play play.
You know you need this because….
We're all about creating memories and smiley times. Turning a potential hotspot of cleaning up after dinner and grumble time into laughing, singing tidy fest. You can't beat good times like this! Connecting with our kids in a positive way after all the other stuff we have to do as parents.
I hope they have those good memories of mum and dad laughing, singing and smiling to balance out those discipline memories when we need to parent.
We Built This City  by  Starship
Paradise  by Coldplay
Everything Is Awesome!!! from LEGO soundtrack
Amazing Grace (My Chains Are Gone) by Chris Tomlin
You gotta be by Des'ree
Something inside so strong by Labi Siffre
Just Give Me a Reason by P!nk feat. Nate Ruess
Dancing in the Moonlight by Toploader
The Bare Necessities from the Jungle Book
Seasons of love from Rent Soundtrack
What would you have on your clean up playlist?
If you enjoyed this post about family atmosphere,  follow my Pinterest board Family Atmosphere and Simple rhythms and schedules in the home
Disclosure: This post contains affiliate links. When you buy through these links, I'll earn a small commission, which helps to keep this site going so that I can continue to offer free and useful content, so thanks!