Following Amber's post on crawling, it made me think about tummy time. So many kids don't have the opportunity to develop the strong motor skills and [tag]bilateral coordination[/tag] because they are on their back during playtime.
 Being on their tummy they soon lift up their heads and reach out and grasp objects Lying them on different sides helps too with a toy just out of reach.
Tummy time for playtime is important but back time for sleep time is essential.
I was very interested to read in [tag]Because Babies Grow[/tag] up that crawling isn't a developmental milestone. I always thought all babies rolled over, sat up, crawled, pulled up, cruised then walked. Apparently not 🙂
I learned from my oldest how he wanted to use one hand to draw/eat/ hold a cup and not the other hand to stabilise. He had his stabilising hand in the air ;his paper would move about and frustration would be usual. No matter what we did. ( remind him, scold him, push his hand down) The hand floated up. He didn't seem to have any idea either that he was doing it. An independent floating hand.
 He found it very difficult to use two sides of his body for different purposes- an important function of bilateral coordination.
He did crawl but with a brace because of a medical condition. I have no idea if they were related but the OT worked on improving his [tag]crossing the midline[/tag] and bilateral coordination believing leaving his poor skills would cause problems in the future.
We played these three games a lot.
Puzzles ( crossing the midline)
Place all the pieces on one side. Encourage use of the other hand to reach over and get the piece and put in the puzzle.
Swap sides and use the left hand.
Block swap
There's a lot more to this game than you first think
Gather together 4 pairs of the same object
Sit opposite your toddler so you both face each other.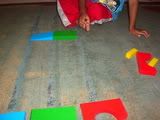 Take one block (object- whatever you've chosen) "Here's the red block. Now you take the red block. Now take the blue block and you take the blue block."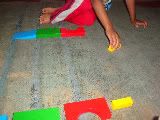 Place two of the blocks to your right and two blocks to your left.
They should be arranged as if in a  mirror so that all the blocks are opposite each other.
Wave your right hand and ask your child to be your mirror and copy you. ( It'll be their left hand)
Use your left hand: Touch your left ear then  left shoulder. Your child should imitate ( It'll be their right hand, ear and shoulder) because they are mirroring your movements.
Try using your right hand to touch your left ear, left knee or left big toe. See if your child can imitate.
Swap do the same for your left hand to touch your right ear, right hip or right wrist. See if your child can imitate.
Use your left hand and reach over across your body and pick up the coloured block by your right knee. Slowly bring it over to your left side and put it on the end. All without switching hand.
Say, " Your turn!"
Continue moving blocks from one side to the other by reaching across your body.
Take turns being the leader and follower.
 Need blocks?
Heros Wooden Stacking Blocks 100 Piece Set
Playing football ( Soccer)
Balancing on one foot and kicking  with the other foot to each other. Keeping control and balance.
These are fun games to play and as a bonus improve crossing the midline and bilateral coordination. Whether your baby crawled or went from sitting to walking these games are ones we should all try.
More information about bilateral coordination and midline
How important is crawling as a developmental milestone?
The Out-of-Sync Child Has Fun
Raising a Sensory Smart Child: The Definitive Handbook for Helping Your Child with Sensory Processing Issues