Do you sing or clap with your baby?
My three month all has two avid singers as company…well three if you count me. My MO sings a version of "Twinkle Twinkle" on a loop that you recognize the tune but not the words. Whereas my BG likes to change [tag]songs[/tag] he knows to include the name of his little brother for nearly every word. So you again recognize the tune but laugh at the words….well word.
These familiar songs calm the LO down when he's crying and are almost always guaranteed to bring an ear to ear smile when he sees which brother is singing to him. 
[tag]Babies[/tag] are interested in our voices. The BG is convinced the LO will start talking soon because he's noticed that as he sings to him the LO seems like he's joining in. He opens his mouth, vocalizes and waits his turn to join in the singing.
The older boys are having fun with this new game.Usually at the changing table but whenever his toes are available, maybe he dropped off a sock or well….it came off with a little help 🙂
Wiggle each toe in turn for each line.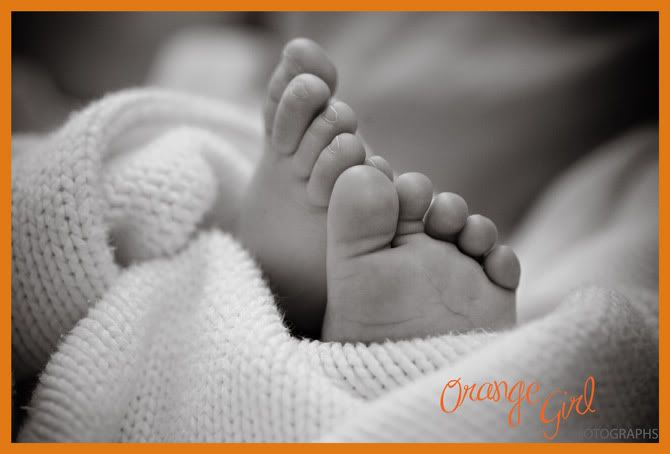 Image : Orange girl photographs
" [tag]this little piggy goes to market[/tag]

this little piggy stays at home

this little piggy had roast beef

this little piggy had none

and this little piggy went wee wee wee all the way home."
"..wee wee wee all the way home" ends with a tickle up his leg, tummy, chest and stops at his neck/chin.
The BG has already started changing the [tag]rhyme[/tag] piggy to baby and changing the places to local things for us or complete nonsense.
"..goes to market"Â  to goes to preschool or under the bed.
Another version we've heard recently
" This little rabbit went out hopping

this little rabbit stayed at home

This little rabbit ate some sweet green grass

This little rabbit ate none

And this little rabbit went

Hoppity, hoppity skip all the way home."
Simple and easy [tag]play activities[/tag] we can sometimes forget in our hurried lifestyle but crucial to [tag]language development[/tag]. It fosters bonding especially for siblings but to parents as well. Try it next time you are changing your little one or fancy a [tag]cuddle[/tag]. You'll love the interaction- beats passive [tag]baby DVDs[/tag] hands down for your little one.
Interesting links:
Origins of this [tag]nursery rhyme[/tag]
Rebus version for older toddlers
What rhymes do you do ? Which ones make your baby squeal with delight? Share them here…Â