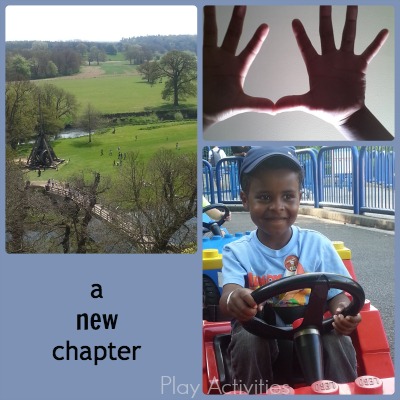 As I sit here listening to the sounds of a quieter house, the walls echo with memories of the sounds of playtime.
My youngest son had his 5th birthday last month and graduates from this space and sharing his play activities.
His brother, middle one and his oldest brother, big guy before him also graduated from here; the blog.
All made cameo appearances on and off. It's hard to believe the big guy is now 10 and the middle one 7.
Neither could resist the pull of play activities they loved or a style of play they enjoyed.
All except the youngest. The little guy although he loved to play it was definately on his terms. His brothers liked the guidance, invitations and springboard to launch their own ideas. The little guy preferred to do things his way, alone and over there.  He wasn't much of a talker loved to smile and was very loving and helpful. Observer and guarder.
Getting to take snaps of our activities got longer, tricker and harder to take.
What I knew was how precious our time together is snuggling and reading as his stroked my arm and I could hear him breathing next to me. This is a time I didn't want to ever forget.
Isn't it interesting how much the youngest one is keen to let you know he's big enough to do everything and it's not fair comes more frequently. I'm sure it was his word of choice.
All three boys are nestled and loving the environment of school. We get to play and spend much time together in the evenings and weekend which we will be sharing here.
After training as a Simplicity Parenting Group leader, I'll be leading workshops and groups in my local area and am in the midst of piloting a new online course helping parents create a family identify….their own family identity. I'll also continue sharing early years information in the podcast Raising Playful Tots.
It's a new chapter and budding beginnings.
Stay and get to know us as we talk parenting, family and intentional play.
What's a new chapter, budding beginning in your family?