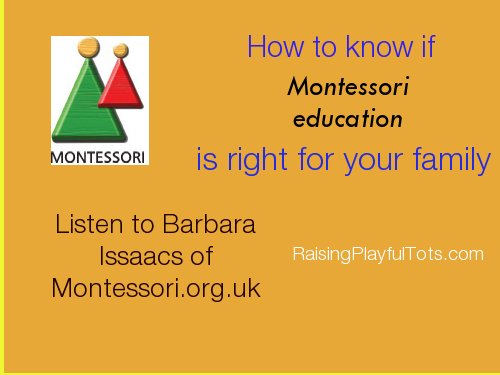 Take a peak into Montessori.
Barbara Issacs, Academic Director of Montessori centre international, ( MCI) She's also the author of Bringing the Montessori Approach to your Early Years Practice and Understanding the Montessori Approach: Early Years Education in Practice. She's been a proprietor of a Montessori Nursery, trainer of Montessori teachers as well as Senior Accreditation officer for the Montessori Accreditation and Evaluation Board talks to us today about Montessori education
LEARNING TOGETHER – WHAT MONTESSORI CAN OFFER YOUR FAMILY :: Find out more about Montessori
 Listen::
Listen to this week's show
Podcast: Play in new window | Download
Subscribe: Google Podcasts
| subscribe through iTunes | on-the-go device
What we learn in this podcast::
Recognising Montessori education
Who would benefit from montessori educational philosophy
Montessori after the Early Years
Basic montessori resources for play
Learn what we would see in a Montessori Early childhood classroom
What makes a good montessori school
Starter Montessori activities at home
Links::
Emma of Mummymummymummymum.com: Guess who duplo game :: Voicemail from  Angeliquefelix.com
Here's What You Could  Do Next…
Now that you listened to this episode of Raising Playful Tots, here's what you could to do next:
Education is meaningless without action. So, tell me what you learned from this episode, and how you plan to apply it to your family in the comment section.
If you enjoyed this episode, do me a favor and share it on Twitter or Facebook. Or better yet, send a personal email to one of your friends whom you'd think would love this.
This part is important. I'm currently have only a few reviews on iTunes, and I need to get to 10 reviews. If you have a few seconds, can you please go to iTunes and leave me an honest review (after subscribing).
Thank you for listening and being a playmate!