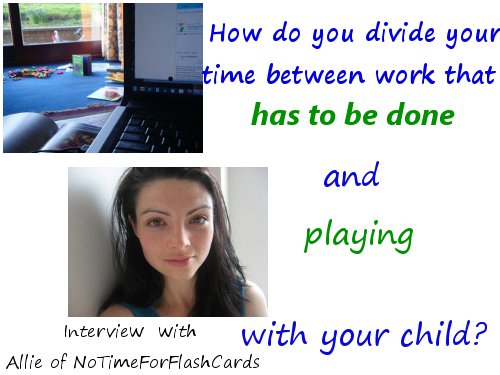 How do you divide your time between work that has to get done and playing with your child? Allie from NoTimeForFlashcards.com, Educator and creative crafter and Melitsa share their struggles,systems, solutions and stories about the age old question; are we doing enough ( or too much?)
Listen::
Listen to this week's show
Podcast: Play in new window | Download
Subscribe: Google Podcasts
| subscribe through iTunes | on-the-go device
Show notes::
We learn:
Deciding how much time to spend crafting
Dealing with the frustration of them refusing to do a brilliantly thought out activity
Working out your day with play included
Why we should plan some play
How to give individual time when you have two chidlren
The glory of quiet time
Planning to be unstructured
Having realistic expectations of length of play depends on their age/stage
Stretching out an activity- getting the most from an activity
Training and teaching what happens when you need to get things done.
Scheduling the TV hours
ebb and flow of the day
Give me Five minutes :: How easy is it to just let them play?
Book Allie mentioned she loved: Playful Parenting
 and his work on Rough housing see his Dr Cohen's interview
Play with one child vs Play with two children
Allie's: Alphabet activities ebook
Crayon Freckles: Painting with Kitchen utensils
Visit Allie on Pinterest:: Twitter :: Facebook
Here's What You Could  Do Next…
Now that you listened to this episode of Raising Playful Tots, here's what you could to do next:
Education is meaningless without action. So, tell me what you learned from this episode, and how you plan to apply it to your family in the comment section.
If you enjoyed this episode, do me a favor and share it on Twitter or Facebook. Or better yet, send a personal email to one of your friends whom you'd think would love this.
This part is important. I'm currently have only a few reviews on iTunes, and I need to get to 10 reviews. If you have a few seconds, can you please go to iTunes and leave me an honest review (after subscribing).
Thank you for listening!