This is a guest post by Chris . If you want to guest post on this blog, check out the guidelines here.
7 Unexpected Ways to Play
Upon becoming a father, I learned quickly that the best way to support a young infant's play is not to purchase them a cluster of toys, but to observe what they are interested in and give them the opportunity to further explore. My daughters played with some simple toys in their first months of life but spent far more time inventing their own play by interacting with their environment.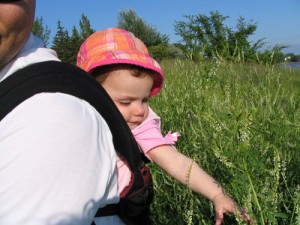 Baby-initiated play is not only a less expensive, more creative option – it's truly unique to the baby who does it! That being said, paying a little attention to what your baby watches and responds to will go a long way, and here are seven places to start.
1. Patterns. Patterns are everywhere! Our daughters both enjoyed being laid belly-down on our lower legs and bounced as we lay on the floor. Typically they'd look up and around while they bounced, but a boldly patterned shirt would turn their attention
downward without fail. The best thing about patterns is that they can be found in almost anything – clothing, blankets, flooring, upholstery, pillows – the trick is to catch your baby in the act so you can help her continue to play by investigating those patterns that delight her.
2. Glasses. Our babies loved to gaze at eyeglasses, especially those with dark frames that contrast with the rest of their world. Parents always enjoy being face-to-face with their babies, but we found that our babies seemed to enjoy it most when we wore our
eyeglasses at night or on weekends. We could hold them up in front of our face for 3-5 minutes without any sign of boredom on their part.
3. Furniture. During the first few months of life, diaper changes can be a scream fest. Once our daughter started to be able to focus on everyday objects, however, she became entranced by the vertical bars that flanked the top of her change table, and happily patted away at them during changes. Once we noticed her playing this way, we let her spend a little more time at the change table than usual – supervised of course – to help her explore and eventually grab onto the bars. It was even worth keeping  faint light on in the nursery at night. We figured since she was waking up anyway in response to the change, we might as well let her play peacefully while it happened and avoid the usual upset.
4. Mirrors. We first noticed our baby's affinity for mirrors at the doctor's office, where a large mirror hung right next to the examination table. This gave our daughter an up-close look at "another baby," and she was hooked. Our guest bathroom doesn't have the clutter that our more frequently used bathrooms do, so we made space on the vanity where we could sit with our back to the mirror, hold baby up to the shoulder, and let her enjoy her own reflection. It was adorable to watch her give herself high-fives in
the mirror. The mirrors attached to or integrated with many toys are often of low quality and too small to give babies the entertainment value that a larger mirror you already have will provide.
5. The swing. Our daughter loved to sit in her swing as much as the next, but one day we took her out of the swing and noticed that she liked watching it just as much! Sitting in mom or dad's arms in a chair nearby, she watched the slow back-and-forth movement
of the swing with a content expression on her face. We began to keep the swing on fora while after taking her out to achieve this response again and again.
6. Anything hanging on you! Any mom with hair long enough to pull knows that a nursing baby will do just that. We found that a chunky necklace toy not only prevented hair-pulling but kept our baby entertained before, during, and after nursing. Just make sure the necklace has features large enough to grasp and a clasp strong enough to take the pull from those strong little hands without breaking. Anything with large, rounded beads made of a softer substance like wood is ideal for infant play.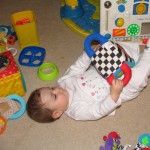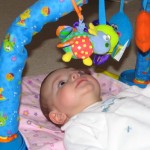 7. Baby carriers. Our daughters loved baby carriers – we used both a Baby Bjorn and an Ergobaby. Both provide enough structure to keep baby safe while doing chores around the house and still give her the freedom to look around or even just at you. When small
enough to face us in the carrier, my daughter's favorite thing to watch was my face. I'd look down and notice her smiling at the funny face I made while cleaning a dirty dish,and was thrilled to know I was making her happy even as my attention was directed
toward something else. It was a great way to bond and play that didn't consume both of my hands!
Watching our babies play with the objects of their world is the easiest (and most affordable) way to find out what they like and capture their attention time and time again. Simple household items, including what we wear, sit on, and look at every day, are often more than enough to keep a baby enchanted – we as parents just need to encourage that kind of play!
Written by Chris Molnar, a work-at-home Dad who owns a baby site and has plenty of
experience finding play opportunities for his two daughters. In his own "play" time, Chris
enjoys reading on the patio, walking with his youngest daughter in the Ergobaby, and this
past winter, cross-country skiing – sans baby carrier.