Today's show features Ponn Sabra of American Muslim Mom . She's the founder of the #1 community for American Muslim moms, and author of Empowering Women To Power Network: How to Save Time, Earn More Money, and Live a Life of Success by Building Quality Relationships Everywhere You Go
. Sabra and her 3 young kid bloggers offer their homeschooling, green, natural, high-tech, world-traveling tips, tools, contests and more.
Ponn shares her experiences of working from home, raising children and keeping it all playful.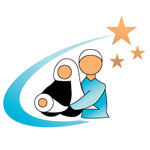 Listen::
You can
Listen to this week's show
Podcast: Play in new window | Download
Subscribe: Google Podcasts
Show notes::
Can you give us a little background about your community- do you live in a small town, mixed neighbourhood
Tell us about how American MuslimMom got started?
What's play been like in your family?
What's a typical day for your children since you homeschool?
How you manage with your Hijab going to the playground/clubs?
Support::
Post your comments after you've listened to the show below to give back to our guest. We're all interested in your opinion and thoughts.
Connect with Ponn on Twitter
Learn more about Ponn by heading on over to American Muslim Mom
Cheers.
Share::
If you enjoyed today's show please tell your friends.
Have your say::
"Like" us on Facebook
Join in with the topic of the week from the Podcast
Email | Twitter