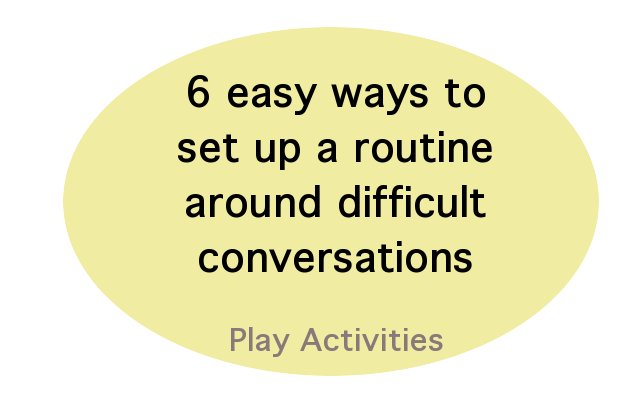 Children will ask questions at times that make you cringe because the comment is said in earshot and often worse we don't know a good response right now to the question or statement.
It's terrible. Terrible for us both.
Seeing a child or adult with a disability  is no different.
I wonder who has heard my child shout that comment. I try to convince myself that it can't be too many?  Yet I feel I need to say something to cover over his missed statement or question but no good idea comes to mind.  Then there are other times and some questions I'm not ready to answer because I don't have it all worked out yet.  We want to be open and discuss issues but we'd like to control when these topics come up or at least have an opportunity to do more than feel embarrassed, shush them, or pretend that we didn't hear their comment. Since none of those offer a good solution the question is still there hanging like a ripe fruit ready to drop.
We're being more prepared by establishing a time and place to start voicing these questions, a place we can discuss things further.
One way we've done this is to use TableTopics Family
 at dinner. The questions are purely random and often pretty deep. Deeper than if we were just sitting at the table and now had to produce a good open ended question that isn't full of agenda. We have the Spanish/English edition and the questions help us as adults form better answers and give the opportunity to the kids to discuss their answers. It is interesting to see how they take the questions according to their age.  These types of questions have helped us ask our own questions and feed them into the dinner time discussions. We change the questions and sometimes skip questions.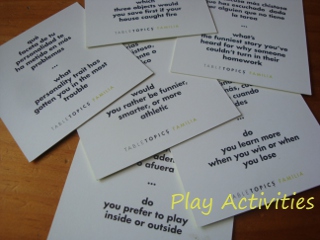 Children and adults have disabilities yet most of the mainstream books we find in our library or bookshop don't have a lot of children or adults shown with disabilities. Why? How can we teach about disabilities or share these difficult conversations?
It's probably one of the number one things children do when they see difference- question it.
Books are such an easy way to introduce conversations about disability with our children.
Older kids confusion
As children get older I've also noticed how confused they get about things. It's well worth going back to books to iron our misunderstandings that have cropped up.Younger children are influenced by older siblings, TV and what they hear. Driving the boys around it's really interesting hearing them make sense of something they don't fully understand together. Especially how easily they come to a consensus that is just not true. It is often around the tricky issues that no one really talks about like disability, race, puberty and any toilet references. When left to make up their minds an interesting conclusion they make.
If you're looking for some books on disabilities try the selections below.
Special-Needs Children's Books Getting Attention ::  Books on disabilities :: book and packs on disabilities
38 book recommendations on disabilities   ::  Children's Books With Disabled Characters
6 ways to set up a routine around difficult conversations
When you are caught short unable to say the right response, acknowledge their response and let them know you're not sure  and we'll look into it later.
Look into it later. Don't sweep it under the carpet.
Establish a time when you can share questions and offer a rerun of questions from the day. Dinnertime is great
Modify your reading books from the library or rotation to include books that feature questions or offer a chance for discussion.
Don't over do it. Little and often works for most families and age appropriate. A topic focus works well for many families especially if it is curriculum based and the material is diverse. Avoiding boredom is the key. Interest and discussion 🙂
Make less assumptions that they know already. The preschool grapevine and the TV shouldn't be the only places they receive information.
What ways to do you have to encourage those difficult conversations?
If you enjoyed this article, get the Play Activities Newsletter. ( It's free!)