Hear the playactivities review of Each Peach Pear Plum
on Just one more book.
Our top 5 unplugged creative toys by Middle one( 3) and Little one( 7mtns)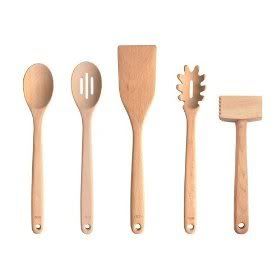 Little one: What he does: He likes to touch, taste, feel the weight, balance, explore texture and experience heat of wood. He found he likes the sound hitting a formula tin, tile floor- not so hot on hitting himself lol yep that's an ouchie but passing dog or brothers are fair game, if they don't watch out. Why it's good to do: discovering the world around him, exploring natural objects and discovering properties, improving control of his hands and rotating and manipulating objects, creative play.
Middle one: What he does: levers, sound, wands, stirring, pretend play, lining up. Why it's good to do: creative play by using one thing for another is a foundation play skill, being adaptive- using his environment to find solutions to his problems ( levers) ,developing storytelling skills but using props ( same props become something else- limitless playtime). Making choices, discarding and trying again ( learning perseverance and flexibility)
Little one: What he does: touches, mouthes it, feels the temp, balances it, drops it, bangs it. Why it's good to do: experience of cold metal and how it warms up, learns about balance, objects that can rock and flick ( spoon) experiements if I let go will it drop or bang everytime?

Middle one:  What he does:pretend play ( restaurant, people) Why it's good to do: Learning to use his imagination. That we are not limited to what the object is currently but it can be anything we want it to be. ( thinking out of the box) creativity in all situations- how can I fix this? Practice with problem solving: how can I do this with this? there's not one answer to problems try one and discard come back and try again in another way.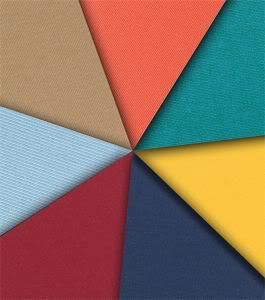 Little one: What he does:feel, touch, breeze, soft, mouthing, rolling, peekaboo, wrapping Why it's good to do:Exploring through the senses is such a fun thing and exciting thing. Experiencing new sensations and building brain connections. gives comparisons between textures ( wood, metal, material) helps build a bank of knowledge on what's warm, soft, hard etc. Concrete examples of soft, smooth due to language parent uses while playing. Not used now but associations are made. Chance for language development, hearing new words and descriptions. Challenges of getting wrapped up and unwrapped independently and doing it again.
Middle one: What he does:cape, tent, wall, magic carpet, picnic blanket, mat. Why it's good to do: extend his pretend play skills by using larger areas, ability to act out new situations or retell stories, adapt a prop; the magic carpet  to pillow to wind to tree. Scientist looking through the fabric on a sunny day and seeing reflections ( learning about transparency/translucent and opaque)
Little one: What he does:undoing, wrapping, pulling, rolling, pushing, chasing Why it's good to do: Learning about texture and inertia. Pushing a ball and it doesn't come back. Pulling a string and it does. Strength to pull around objects. If you chase the string it unravels and can get caught on things.
Middle one: What he does:pom poms, cutting, undoing, rerolling, chair mazes Why it's good to do: improves his hand coordination through threading beads. Great to investigate without a purpose; what happens if? Working through a problem ( Threaded a ball of wool around a chair) how do I get the ball back? rolling up a long piece of string. Trial and error. Plenty of opportunity to develop this skill including frustration, determination and finally succeeding. Overcoming is a skill they certainly need plenty of practice.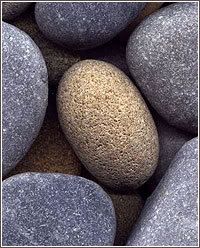 Little one: What he does:sound, warmth, sound. Why it's good to do: New texture to feel and explore with all the senses. Developing unsaid knowledge ( weight of stone- I  need two hands to pick it up or there's stuff left on my fingers. My fingers feel different.) Stones from the garden in the morning are cold and damp but left in the sun are warm.  Wet stones are slippery.
Middle one:What he does: Build towers, make shapes, line up, pretend play, collect, throw.Why it's good to do:Learning discrimination& classification skills of size, shape and colour. Discovering broad groups of things ( smooth stones, round stones, holiday stones) becoming a colllector.

There are so many more things you can do with these natural objects. These are just a snapshot of what my kiddos did with them this week. Let your little ones play with natural objects. Plastic tastes the same- yuk! Babies and toddlers thrive on sensory feedback and using natural objects allows them access to feelings, textures, heat, light, and smell differences you can never experience with an only plastic environment.
Plastic has let us just give our kids toys and we as parents go off and do things. Whilst kids do need to explore by themselves we do need to facilitate play experiences. We do need to be there to extend their ideas and open up alternative paths or ideas.
When you choose natural play objects be near your child by keeping them safe.
Use objects that are clean and free of chemicals– rinse throughly and clean appropriately.
Choose different types of natural object to keep the play fresh and exploratory.
Let them discover the toy.
Natural toys are the best toys because of their flexible play opportunities. Push aside the push button toys , today, for a while at least, and give your child this fun experience. You will be giving your child an amazing gift money can't buy.
Learn more about natural play
Play Using Natural Materials (Ready, Steady, Play S.)

Play, Projects, and Preschool Standards: Nurturing Children's Sense of Wonder and Joy in Learning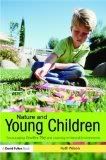 Nature and Young Children: Encouraging Creative Play and Learning in Natural Environments
*****What natural objects do your kids play with? I'd love to hear your thoughts****