When we look at our first sweet baby we have the highest intentions for our family. Fast forward a few years and a lifetime of experiences our intentions have wavered. We're doing more of something we thought originally we wouldn't do. We're on a path that we're not happy with.
Today we're taking small steps and deliberate decisions so we parent on purpose. Finding our way as a family and keeping agile, modifying our systems to suit our ever changing situations instead of rooted and bound to one system we once tried.
There's that tool, phrase, system or habit you've read about but how can you find a way for this to happen in your family?
Wouldn't it be good to have some
clear steps to help you become the intentional family

you want?
Judgement free place where you can explore what's working, what's not and what you want? Imagine becoming a more intentional family. Parenting on purpose
Listen in to the conversation about becoming an intentional family and how try a few of these ideas. I'm sharing how we've stumbled in this area recently and how we've found a way to work on a troublesome area more intentionally.
Raising Playful Tots – the podcast for parents who want to make the most of their playtime and enjoy simple parenting
Podcast: Play in new window | Download
Subscribe: Google Podcasts
Click the play button above and let's get some ideas.
INFORMATION FROM THE SHOW
What we're playing with this week: Garland of thanks :: MamaPapaBubba
What does it take to become an intentional family?
5 Approaches When Becoming an Intentional Family
We are in charge of what comes in the home.
Avoid following fads just because
Plan and schedule what happens
Do family things together regularly
Feed your mind
Start your family meetings    Family roundtable:: Play Activities
No more band aid solutions to parenting. Work on Creating a family haven:
An intentional family plans to get to their goals, fun and activities   Simple Parenting and Play Planner 
Finding your people
Some suggestions..
Toddler Approved Positive Parenting Reader Question Zone
Gentle Parenting International
The Way of the Peaceful Parent Q&A Group
Homeschooling Waldorf Support Group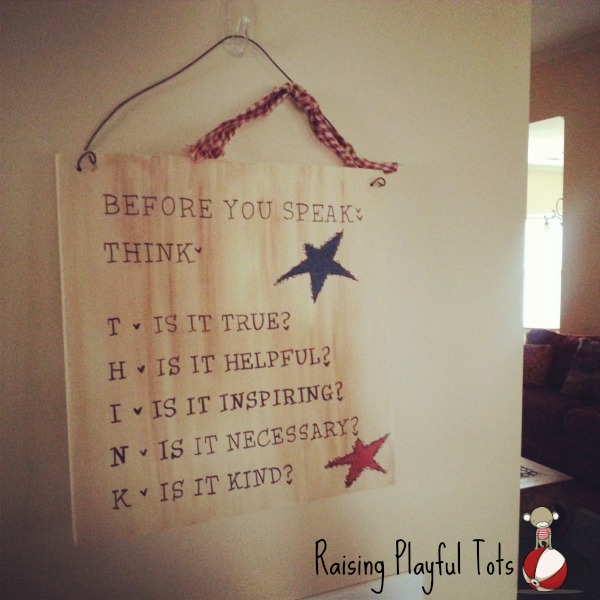 This is where I got the "Think before you speak plaque" from Etsy
Hanging up on our wall.
How are you becoming a more intentional family?
WHAT TO DO NEXT:
So you've listened to this episode – if you liked it and want to hear other ones – and I really think you will….you should do this right now:
   How to listen and subscribe to this show
New to Podcasts?
If you've enjoyed the show please take the time to share it with friends and leave a review for it on iTunes or Stitcher.