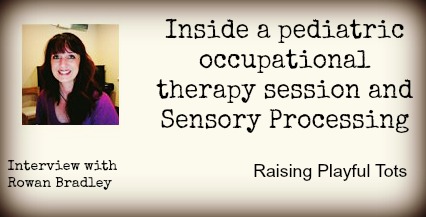 There are times when we need more specialist knowledge to help our children if they are not typically developing and most of our children will need help at some time. We're familiar with our Doctor and Pediatrician but where do we go for specialist knowledge and what happens in those sessions.
Rowan Bradley, Director & Paediatric Occupational Therapy Specialist answers parents questions on occupational sessions and how the process works.
Visit her site : Children's Therapy Solutions
Listen::
Listen to this week's show
Podcast: Play in new window | Download
Subscribe: Google Podcasts | Stitcher
| subscribe through iTunes | on-the-go device
What we learn in this podcast::
What do you do day to day in your practice.- what typically happens in a session.
How you get referred to a occupational therapist?
What do you do with children with developmental delays? 
What is sensory processing disorder and how do you tackle it.
 and discussions about summer born children, testing and how it isn't what you think, personal experiences and much more….
Links::
The Mary Sheridan's book mentioned in the show :From Birth to Five Years: Children's Developmental Progress
STAR (Sensory Therapies and Research) Center is the premier clinic for treatment of children and adults with sensory challenges
Call in your feedback : https://raisingplayfultots.com/feedback
Now that you listened to this episode of Raising Playful Tots, here's what you could to do next:
Education is meaningless without action. So, tell me what you learned from this episode, and how you plan to apply it to your family in the comment section.
If you enjoyed this episode, do me a favor and share it on Twitter or Facebook. Or better yet, send a personal email to one of your friends whom you'd think would love this.
This part is important. I'm currently have only a few reviews on iTunes, and I need to get to 10 reviews. If you have a few seconds, can you please go to iTunes and leave me an honest review (after subscribing).
Thank you.