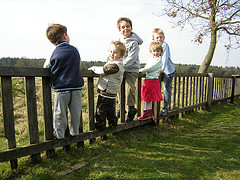 After school clubs and the under5s. No not clubs for them but the clubs that their siblings attend. When you have a group of children going to clubs after school what happens to the other children while the one or two children are at the club?
This year I have two in after school clubs. We start clubs once they are school age. So now with one and sometimes two in a club on the same day what do I do with that third child?
It's not an uncommon question. I'd like to think this would be a good time to have some together time with each doing a play activity. There are lots of ways to approach this time and we've decided to go down the road of engaging them. Is this too much time to occupy?
The difficulty with club waiting time is usually the younger sibling wants to join in the fun activity. They can see their sibling playing or doing and naturally want to join in. Unlike the doctors, bank or other waiting activities the club wait is usually a reasonable length of time.  Do you drop off and come back? That's in and out of the car. You have to consider time there and back or is it worth spending the time there with the sibling(s). Not to mention if anyone is tired or hungry.
With clubs expecting termly commitments it is possible to eestablish a routine that will work for everyone with  the sibling enjoying the club and the sibing(s) in the wings content.
Well that's the plan.
How?
Using a small bag that contains the usual paraphernalia of a potty training little one as well as my bag.
When?
Each week, I'll be documenting here how we get on. What we used and how it worked?
What can I do?
Join in the challenge.
Challenge: What can you bring to engage your child(ren) whilst one or more are in a club ?
It must be able to fit into your purse or small backpack.
Why?
To build a resource of activities, toys and ideas for us all to use. Together we have a lot of knowledge. If nothing else we'll see what works and what doesn't in our family. Maybe this preparation will help ease the emotions and tantrums that sometimes follow being the youngest.
Are you ready to show us what you do? Do you change the activity?
Join in the sibling club challenge by sharing one of your activities below.