So I have a big confession. This is the first time in over 6 years that I will be leaving my children for 4 days and 3 nights.
I know. I know I should have done this a lot sooner but being a military wife and having a husband with an all over the place work schedule has meant that I have been flexible to our families needs and well………neglected my own somewhat!
New year new priorities. I have been blogging for a while and decided that this year I would be going to Blissdom in Nashville, Tn.  I want to meet more people like me in real life.
I'm totally excited, anxious & nervous because it's this week!
As a military family we're used to irregular work schedules and moving but the common denominator in all of this has been me. I've always been there. I'm sure they will be fine without me. I want it to be a positive experience for everyone. I don't want to come back to a nightmare after experiencing Bliss. From past experiences it is hard to keep them focused on the here and now. They were always on the countdown to when Daddy was coming home or we would see daddy.
Since I blog about play activities here are two easy activities that took less than 15 minutes to do ( 10 of that was finding the books). I guess I could print out a few activities from the newsletter ( right sidebar) since I have the inside track but I think this time Daddy has plenty of play activities up his sleeve.
So what do you do for your children when you decide to go to a blogging conference ?
Use the conference material
We received some popcorn in our Blissdom packages. (Plus a lot of other amazing goodies) I know they will be munching those and eating my share on Friday night during family night fun. We can connect through that.  They get a larger share ( always welcomed with popcorn). I also bought their favourite pizza so they should be lots of smiles that night. We received two packets so we get to share one together when I get back.
Record bedtime stories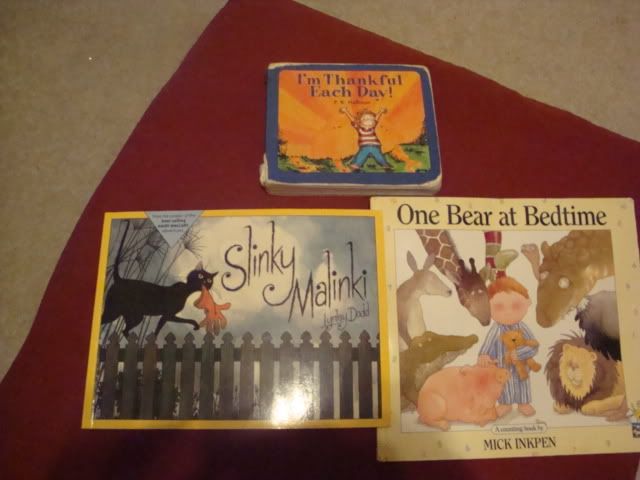 I know I will be busy so as much as I want to check in with everyone I don't know if I will and when. While they maybe happy not to hear my voice I think really they will miss hearing me around the house.
I've recorded three stories for them to listen to for bedtime. This is a special treat in itself because they don't get on the computer that much and here is mum saying come on the computer anytime and listen to a story.
It is really easy to do. Download Audacity. Install. Connect your headphones with mic or use your current computer. Record your story. For more instructions on how to do this see create your own. You can also burn your home stories to CD to play in their room. But I know mine will love to come to the computer and listen. That will be special for them. Doning the headphones and grabbing that book.
I chose
Slinky Malinki
For the BG
One Bear at bedtime              For the MO
I'm Thankful Each Day
For the LO
Listen to part of each one below. The bump sounds you hear at the end of One bear at bedtime are for page turning 🙂

I'm hoping that this will ease their worries a little….and truth be told ease mine that they will be having a great time.
The test is………will they look forward to me going away again if they know something special is coming their way?
I hope so!