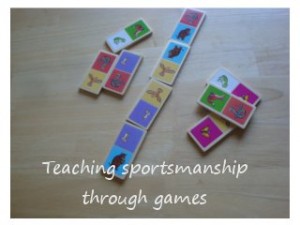 Ever wonder if the play activities you do and the values you teach really stick with your child?
Ever played with a child and been beaten in a simple game?
It happened this week and really illustrated something to me worth sharing. We need to teach our kids sportsmanship intentionally. It can't be a happy accident or rob them of the chance by artificially bending the rules, too far for them to miss the opportunity of learning.
What happened?
He was thrilled to have won, not just once but three times at dominoes. I didn't let him win. It's how the dominoes played out. ( As anyone knows who's played dominoes with me; I'm no domino player- just matching!) The joy of his win was right there. I said the right things; Good game and congratulated him on the thrashing he gave me.
He gave me a hug and said. Thanks for playing mum. Then wanted to reassure me that we could play three more games so I could win. We then had an interesting discussion about winning and losing and how we both felt. Being able to bring it up again at dinner to the family helped.
Play – Model- Play- Reinforce- Play
What they need
They need to have practise to articulate their feelings and put their thoughts into words, with us. When we play with them we give that opporrtunity. If we let them win all the time they don't know what to say or do when they lose elsewhere.
The bigger test will be how he responds now in company and away from home
Do you let them win?