We're playing Rhyme Time. The previous post was a photo of a Nursery Rhyme scene you and your child together are trying to guess. If you've not done this yet………what are you waiting for 🙂
This post gives you the answer and some activities we did with it.
Pretend play gives your child the chance for unlimited creativity. On Monday we'll celebrate that through Nursery rhymes.
Here's the answer………………………………….
Answer: Incy Wincy Spider.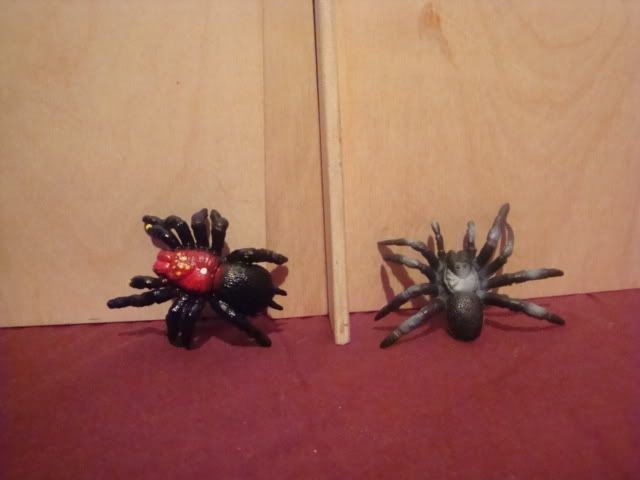 Pretend play inspired activities
Sang the English version I grew up with and the American version both the boys learnt at preschool.
They both taught me new verses of, " The GREAT BIG spider" You  say the great big- loudly.
We went outside to find a water spout to see if we could see a spider's web nearby. ( This took a long time as we walked all around the house)
We tried to guess how long it would take for the poor spider to climb up one of our pipes ( MO- a long long long long time. ) 🙂
We played with other bug friends and named them , Mr Cricket, and Mrs Ladybug.
Took the bugs outside and I started a story. "Once upon a time, there lived a bug called….. ( waiting for MO to answer Incy Wincy) He lived….. ( MO grabs Incy and puts him in a big weed) What a nice house Incy Wincy you can spin a lovely web here. Where does his friend Mr Cricket live? We carried on the story and MO acted out eventually taking over the story. I left him with the bugs playing while the LO played in the garden on his push toy.
My boys love superheroes so it didn't take long for Incy Wincy to become a hero and have to save poor ladybug.
Other activities to do
Pretend to be spiders climbing the water spout. Lay a rolled up sheet on the floor. The children move up the sheet pretending to be spiders.
Act out the story using a spider hand puppet.
or a felt board
Read the story of  Incy Wincy Spider
Teach the actions to the song.
 Why didn't we do a craft?
There are lots of craft related activities with Nursery Rhymes. Today the focus is on encouraging pretend play; joining in with your little ones and extending their pretend play.
What I hope he learnt?
Songs can change.
We can make up stories from a rhyme.
New vocabulary.
how to spot spiders in their webs outside.
You can play outside with typically indoor toys.
Learnt a new verse.
Come join in Monday 29th  June.
What Nursery Rhyme will you choose?
What play activities will you do today