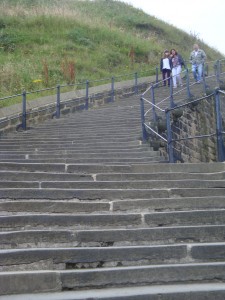 Take a run up these steps with us……all 199 of them.
Views were brilliant.
Love Summer holidays!
___________________
Friday Finds is the place to unwind, grab yourself a comfy chair and reflect on your past week then plan for the upcoming one. With a little something to make you think, for them to do and for us to listen or watch……. We are putting ideas into action. Challenging ourselves to do a little differently. Be inspired.
Link up your posts  that fit one of these categories.
Enjoy your weekend!
Goodness for the mind: Super Mom Debunked :: Toddler Approved
Activities for the body:  Carnival of Get Active! Play :: Nurture Store
Goodness for the eyes and ears: How to slow down speedy readers :: teachmama.com
This week on Raising Playful Tots podcast::  Growing up Global where you live
If you enjoyed this article, get the Play Activities Newsletter. ( It's free!)