25 Conversation Cards each with different situations to start character and values conversations.
Available in two options
Print :: Audio
Audio version : Listen while in the car and have character conversations on the go! All 25 task cards are read by Melitsa with audible pauses to stop and have conversations. Easy to use on your phone or tablet. (Even easier to use if you activate your voice commands options on your phone so you can pause, play and stop hands-free!) Listen to an audio sample below.
____
Print version: Print these out and use in the classroom during character education time. Have one child ask their partner or a small group.
Download to your phone and use while traveling between activities to talk about values and what would the children do. Far easier to have this situation than pull one from your life where children usually clam up. It encourages the children to form opinions on the fly and adjust their perspective with input from family.
Try as part of the meal time conversation as an alternative to, "What did you do in school today?" One child/ adult reads the question and each person around the table gets a chance to give their opinion and maybe why.
All cards are easily adapted for grade levels and gender to suit your situation.
Answers not provided and come from your (family) values.
Try one for each day of the working week for a month
Want to know what the cards look like and sound like?
Gratitude, courage and adversity,Unity and cooperation  ( March)  Audio   ::   Cards
Respect and Manners, Trust and Faith, Citizenship  ( February)   Audio ::  Cards
Developing habits, Goal setting, Unity and Cooperation  ( January)  Audio :: Cards
Potential and Self Worth, Love and Kindness and Honesty and Integrity (December)  Audio :: Cards
Priorities and things we value, attitude and honesty and integrity ( November)  Audio :: Cards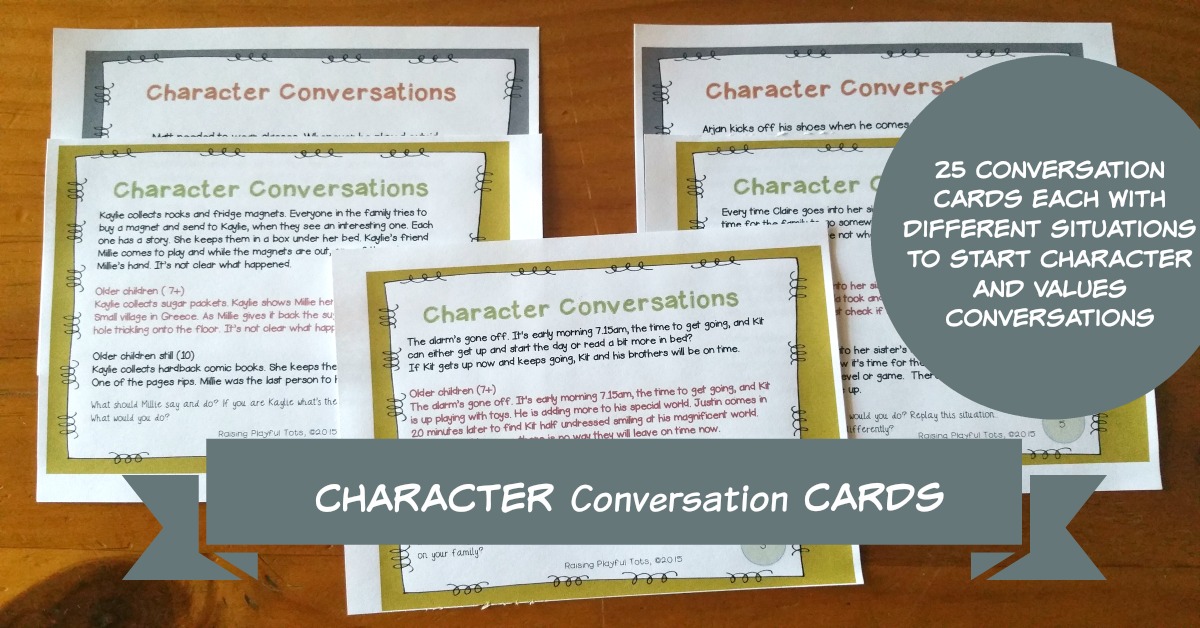 Latest episode  ::  Podcast Collection :: Home :: Books