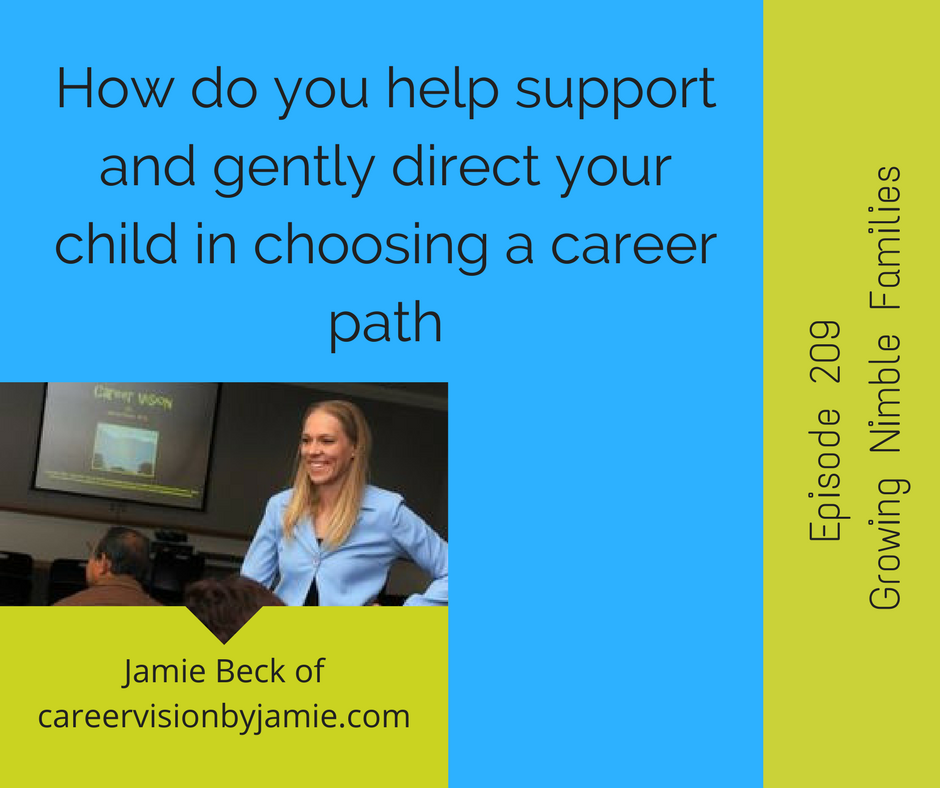 Jobs are disappearing and lots of new types of jobs appear all the time. The path towards school age kids future career and job ideas doesn't have to be random. With the student ratio of students to career counselor in many schools being 491:1 it is really important that parents are involved in supporting the whole process.
Our guest today is Jamie Beck, M.S, speaker and former CSU Career Counselor. She's the founder of Career vision by jamie.com  where she is reshaping the way job seekers fundamentally conceptualize, search, and apply for work. She's bringing information for parents of all the ages of school age children that help us be involved but the kids doing the learning.
Lots of the ideas Jaime shares apply throughout the school age. You don't have to be a middle or high school parent for this episode.
Growing Nimble Families podcast encourages the celebration of school age kids traveling through middle childhood
Show Notes
Jamie talks about
Tips and ideas for elementary, middle and high school parents on supporting their children as we're the best careers support for them.
What's your career bank like?
What to do if your child gets stuck on ONE idea that's not practical?
What's one thing parents can do to understand future job/career prospects?
An alternative way of looking at future career ideas that don't keep us fixed or stuck with one idea.
Helping kids see the reality of careers
Practical things to do if the kids have NO idea about career ideas. How to get them going.
The significance of the number; 32, 850  and our children
When your child wants to do an irregular income career you're not happy about….how to navigate this path as a parent and child.
Students can't become what they don't know exists
Resources: Pi day activities
Brain Sort Question from the podcast:  What is it that you ( the parent) love that you would do for free 40 hours a week? ( Ends: March 24 9pm Eastern)
WHAT TO DO NEXT:
So you've listened to this episode – if you liked it and want to hear other ones – and I really think you will….you should do this right now:
   How to listen and subscribe to this show
I'd love to hear from you about the show.
Any comments about the podcast use the Voicemail
Use the hashtag #gnfsak
If you've enjoyed the show please take the time to share it with friends and leave a review for it on iTunes or Stitcher.